DeFi Saver Newsletter: July 2020
Welcome to our latest monthly release covering July events, updates and stats!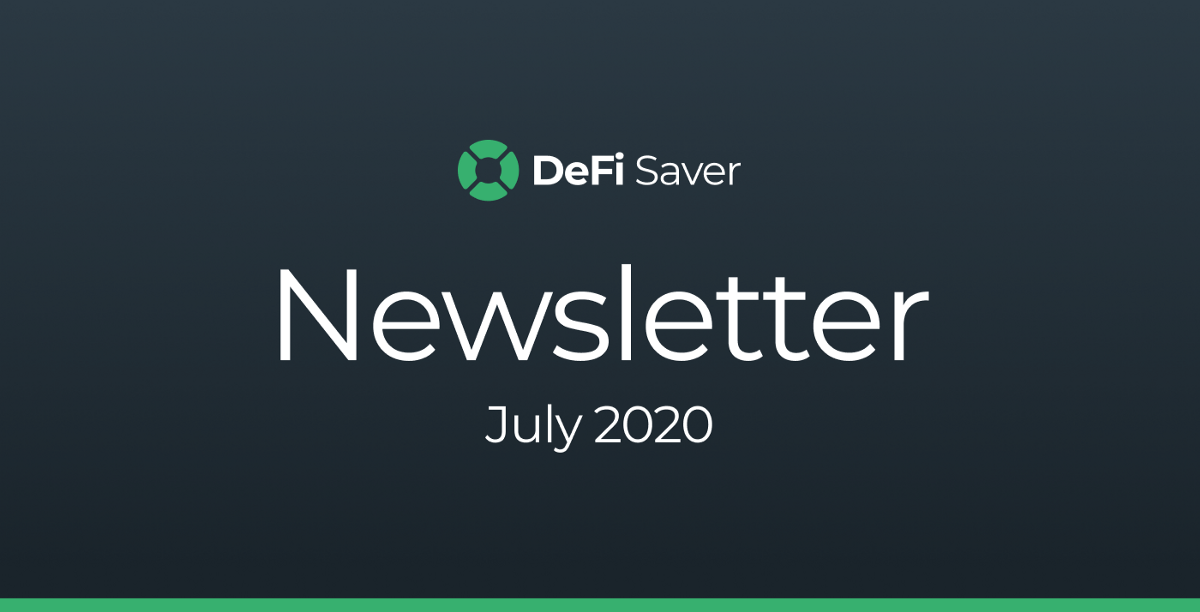 July was initially shaping out to be another slow month in terms of crypto market movements, but things definitely became interesting towards the end with a sudden start of a run up, that later continued into August, too.
Additionally, the decentralized finance ecosystem was making huge moves even before this run started. We saw DeFi break through $4B in total value of collateral locked, we saw MakerDAO reclaim its throne and become the first protocol with over $1B locked. And we also saw the total supply of DAI pass 300m for the first time ever.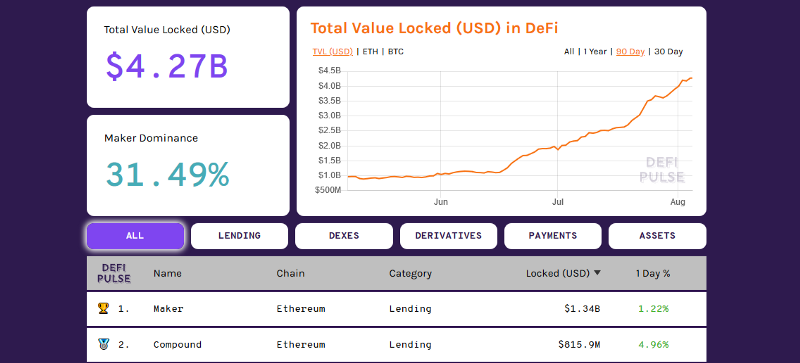 In the meantime, here at DeFi Saver, we were mostly focused on finalizing our Compound features, while also rolling out other UI improvements, as always. We also have a lot of things being worked on in the background, but for now let's take a look at some of the most important updates rolled out in July.
DeFi Saver news and updates
Compound Automation
Having introduced our brand new Compound dashboard in June, it was now time for Compound to receive the Automation treatment, too.
Automation for Compound is the same trustless system that users have come to love and rely on for MakerDAO, but with a few differences, mostly due to conceptual differences between these two protocols. Most notably, Compound allows both supplying and borrowing multiple assets within the same portfolio, in which cases Automation will automatically use the assets with highest value supplied/borrowed for automated adjustments.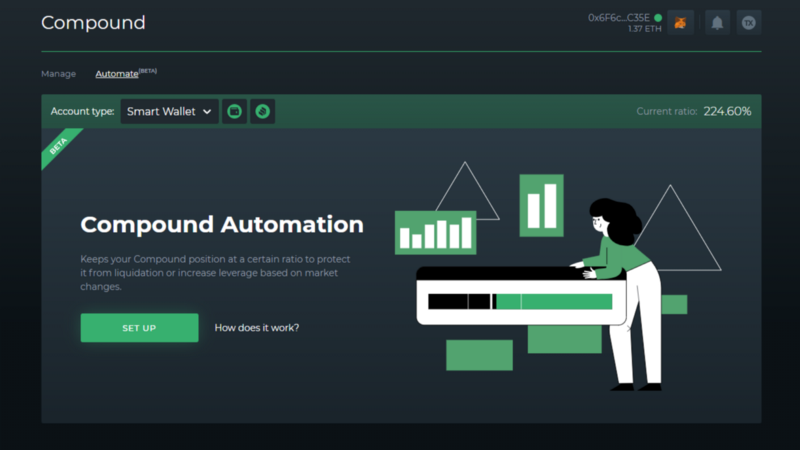 So far, as of early August, we've seen 20 unique Compound portfolios enable Automation with close to $2m worth of collateral supplied in them.
For more details and a setup guide for Compound Automation, please see our introductory post.
Portfolio improvements and address tracking
We first introduced the portfolio page in June, along with an overall interface refresh, and we promised to continue improving upon it moving forward.
Two of the most important portfolio tracking updates we've released in July:
If you'd like to try it out, just head on over to https://app.defisaver.com/ and enter your account address (or ENS!).
MakerDAO introduces MANA (and so do we)
During July, MakerDAO Governance voted in and onboarded another collateral type which has already received the full DeFi Saver treatment: MANA.
This means that you can now create an instantly leveraged CDP, use Boost and Repay and also instantly close down a leveraged CDP for MANA, as well as all other collateral types supported in MakerDAO.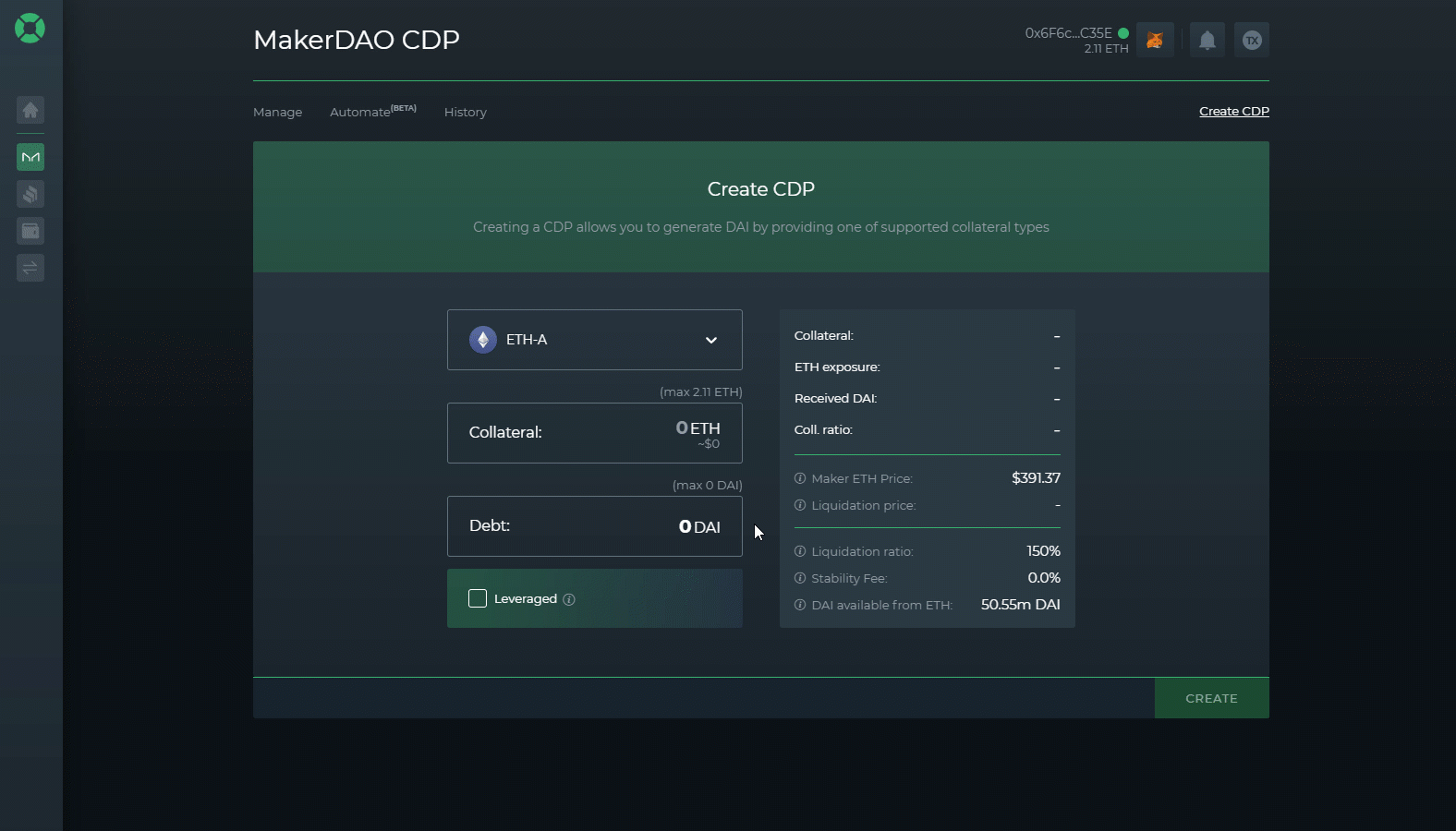 Automation support for MANA will be added in the next few days, while Automation for previously added KNC and ZRX is already available.
DeFi Explore now includes more stats
We updated our MakerDAO explorer, DeFi Explore, with more useful stats for all MakerDAO users and CDP/Vault owners.
Some of the information you can now find at DeFi Explore includes:
Current and next price update for all supported collateral types
Current DAI debt and debt ceiling for all supported collateral types
Current Stability fee for all supported collateral types
As mentioned, stats for KNC, ZRX and MANA are all already there, too. And, as previously, you can browse all MakerDAO CDPs/Vaults by ID# and you can check all collateral auctions in Maker.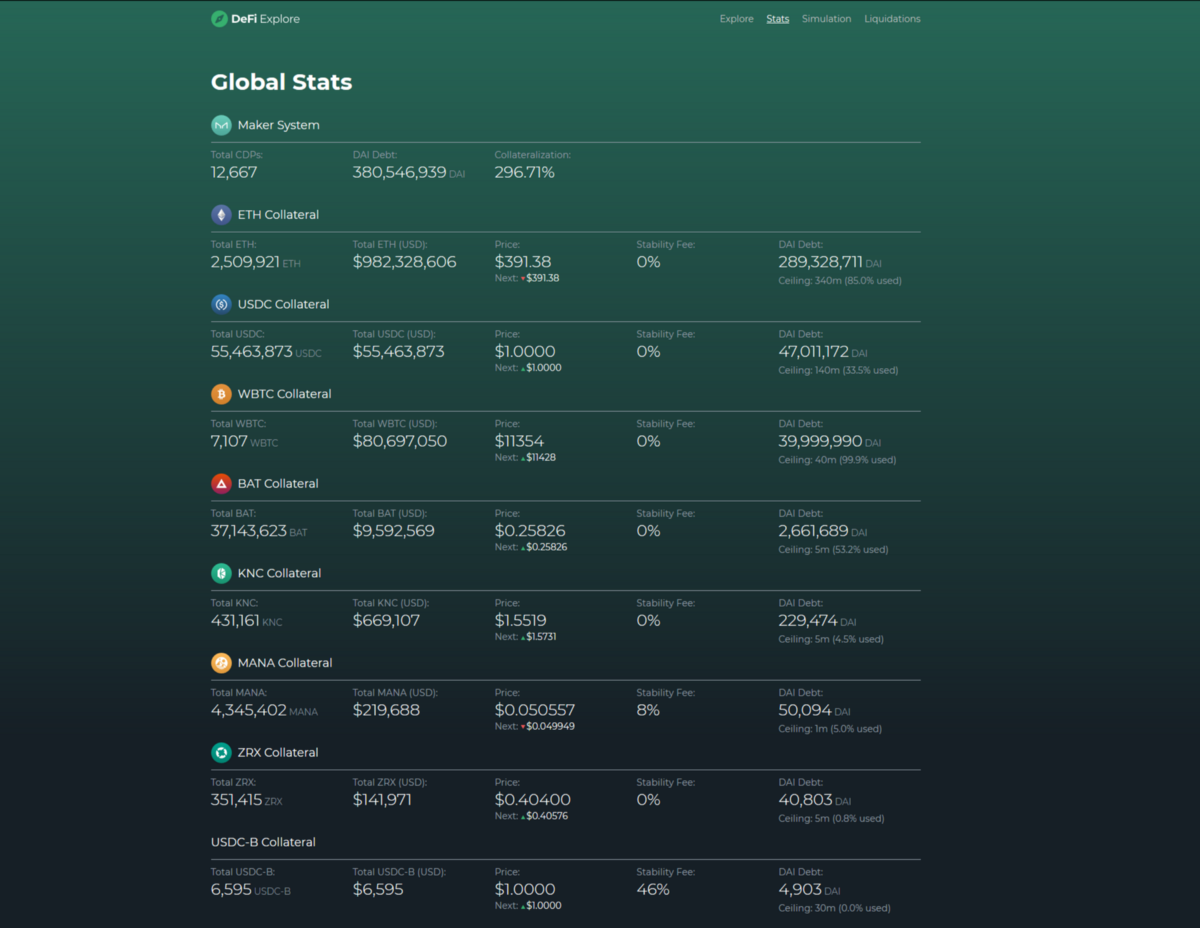 If you have any suggestions on what kind of additional data you'd like to see on DeFi Explore, please feel free to jump into our discord server and share.
July stats
As of July 31st, there were a total of 384 MakerDAO and 15 Compound positions with Automation enabled, with the system managing over 90,500 ETH, 27 WBTC, 250,000 BAT and 13,700 KNC in collateral.
These general Automation stats are now available on our new homepage, too. Currently, this only shows automated MakerDAO positions, but Compound will be added into the mix in the next few days.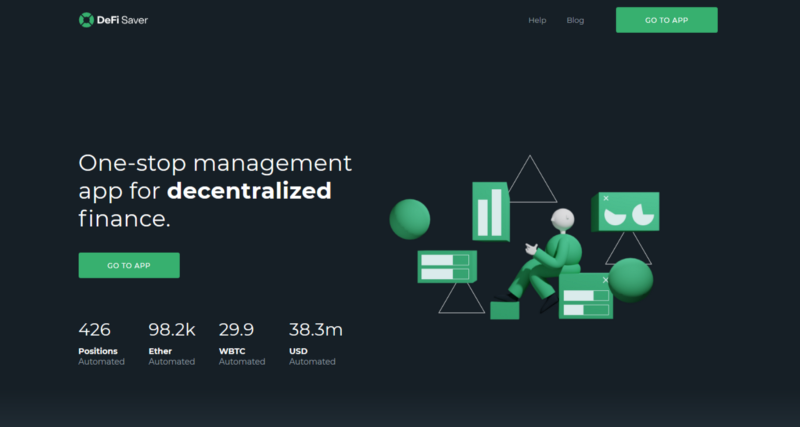 Overall, even though it started slow, July turned out to be a very active month, which resulted in more than $9.7m volume done in 1850 unique transactions. This makes the average transaction size in July close to $5.2k, a very noticeable increase from the ~3.5k in June.
Besides the increased volume, we also have a new flash loan record made using DeFi Saver. Stani from Aave noticed this pretty hefty 3.5m DAI flash loan made:
But we actually had one multiple times larger done on the same day , too — a 9.57m DAI flash loan used for further leveraging of a DAI-DAI Compound position, a setup commonly used for farming COMP tokens:

This has absolutely smashed our previous 500m DAI flash loan record and we have to give kudos to Aave for making this possible.👏
Community shoutouts
We always like to take a minute in these newsletters to share and show appreciation to the people who provide very vocal support.
First of all, we want to thank everyone who joined our Gitcoin grant during Round 6 that ended on July 3. This was our most successful Gitcoin round so far and we greatly appreciate everyone who decided to support DeFi Saver in such a direct manner.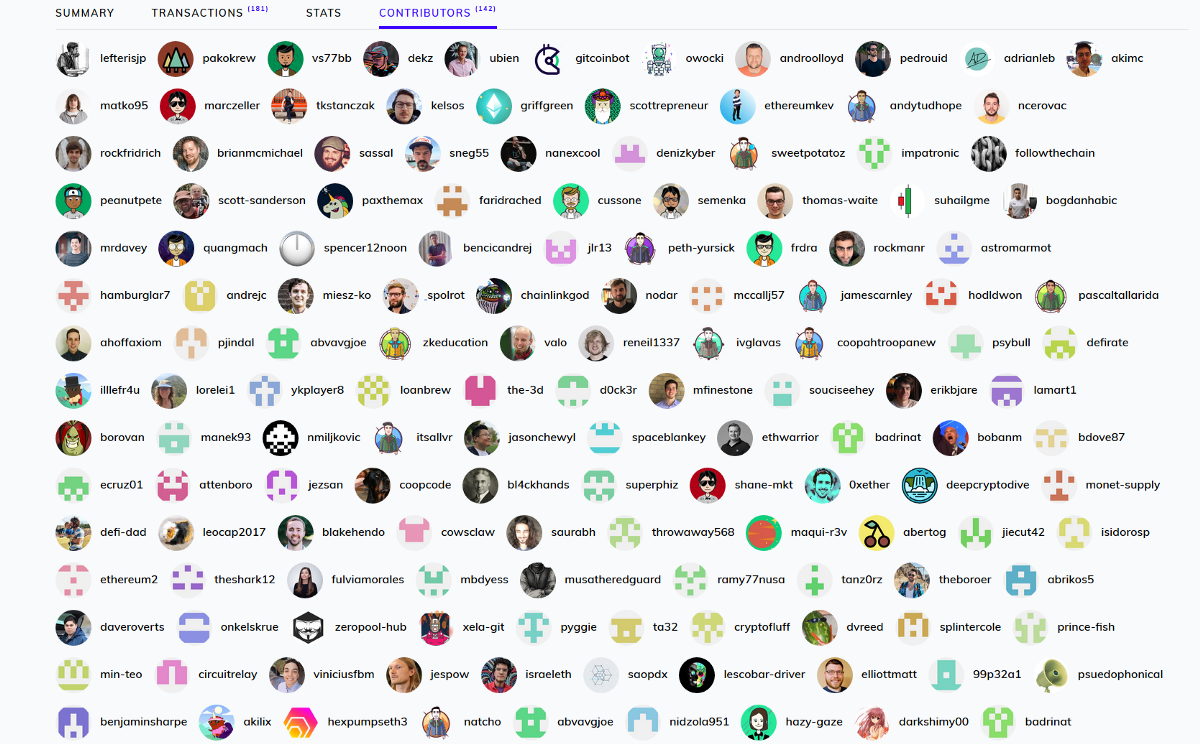 We also want to thank our friends from Argentina for recently covering DeFi Saver on their Dai for Beginners blog:
The Aave team was kind enough to share a shoutout after having us participate in their ecosystem grants program:
Note that Round 2 is currently open for applications, so if you're building something using the Aave protocol, make sure to check out details about applying in this post.
Finally, we have to say that we appreciate each and every one of you who decides to recommend DeFi Saver to your friends or followers. Like George did here after using DeFi Saver for the first time:
Though July is just behind us, we're already very excited about sharing news on what we have cooking for August. If you'd like a teaser — the first upcoming update may have something to do with a very popular purple-branded DeFi protocol.👀
Stay tuned and talk soon!
Stay connected:
🌍: DeFiSaver.com
💬: Official Discord
📢: Official Twitter