Newsletter
DeFi Saver Newsletter: October 2020
Welcome to our latest monthly release covering October events, updates and stats!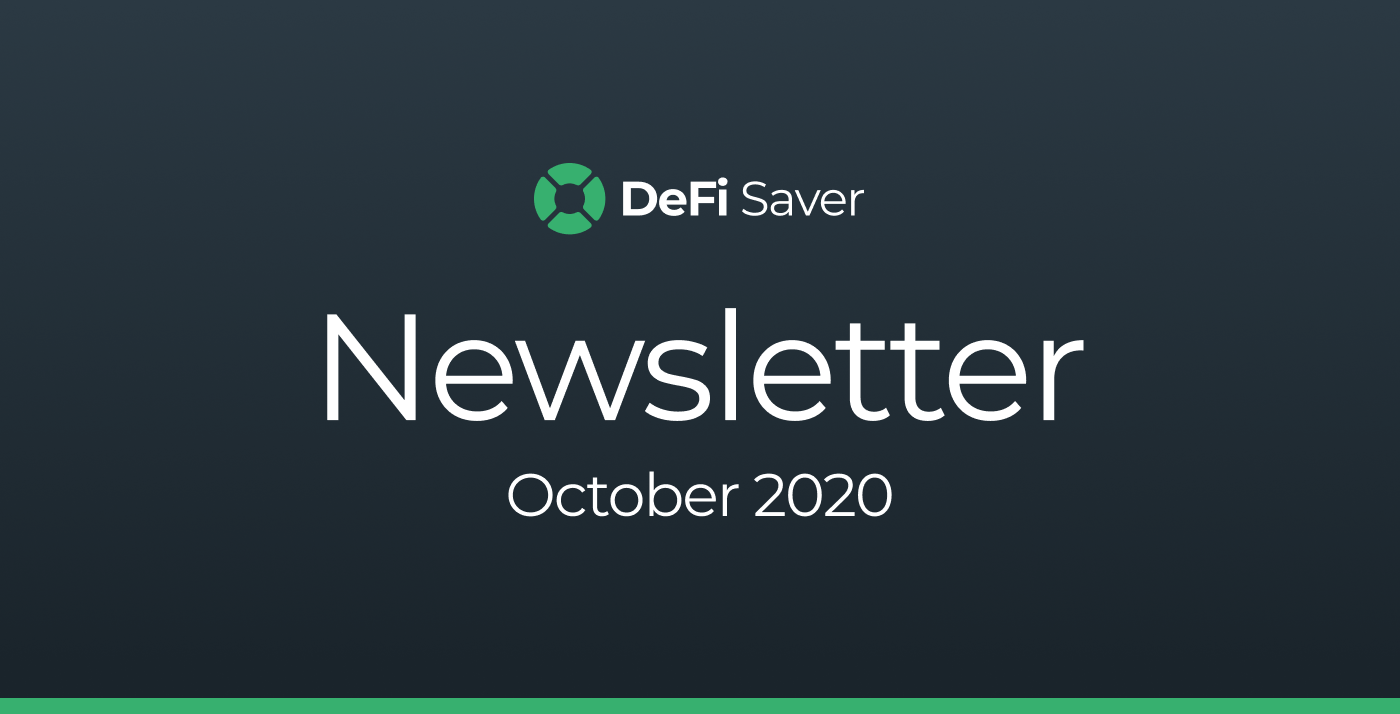 October was a slightly odd month, with many DeFi tokens (including the likes of AAVE, COMP, UNI and others) retracing their previously reached levels by as much as 20 to 30% which prompted many to start calling out the death of DeFi.
The reality, however, was that DeFi wasn't going anywhere and the growth of total value locked in decentralized finance protocols only paused for a little while, before starting to trend up once again.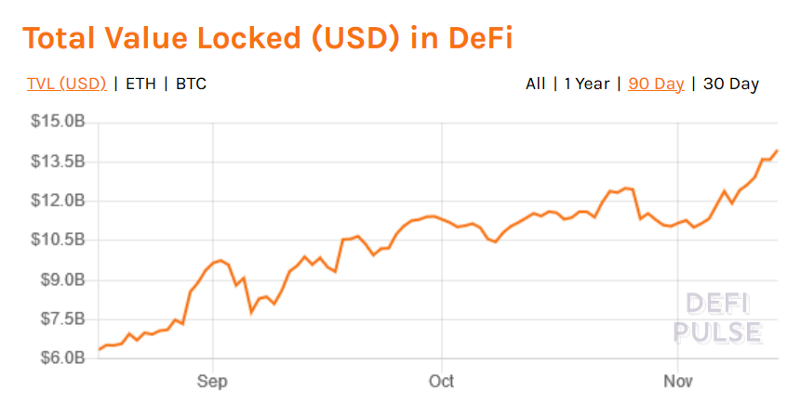 Meanwhile, all the teams in the DeFi ecosystem remained focused on building and expanding. For example, MakerDAO had a number of major executives voted in, Aave is deep in work on their version 2 of the protocol, we also know Uniswap v3 is in the works, and even Compound's Robert Leshner teased a potential v3 recently.
Things were no different at camp DeFi Saver and we had some quite major news to share in October — so let's talk about those in more detail.
DeFi Saver news and updates
Loan Shifter introduced
The Loan Shifter might be our most interesting release in a while.
The kind of options this unique tool can provide you with include converting your position's collateral asset into a different one, converting your debt into a different asset, or even moving from one protocol to a different one altogether.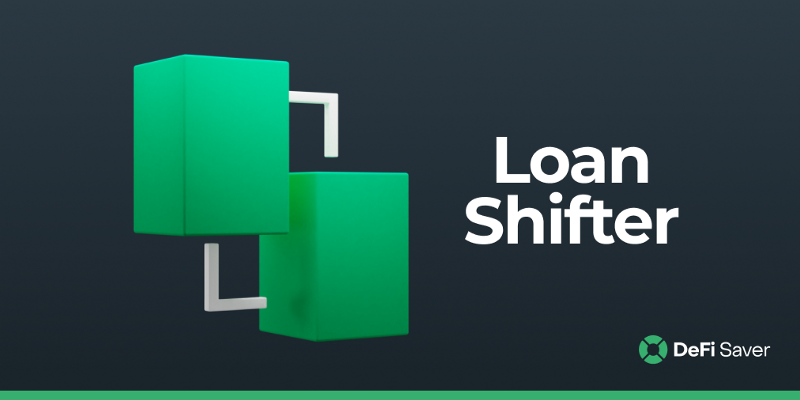 Some specific use cases, for example, include converting a MakerDAO ETH-A Vault into a new ETH-B one (with a lower 130% needed c-ratio), or converting a Maker WBTC Vault into an ETH one (and vice versa), or moving your WBTC Vault from Maker over to Compound.
The magic of the Loan Shifter is made possible thanks to the use of Aave flash loans and we suggest reading our introduction post for more details and more potential use cases.
New gas widget added
As the latest user experience improvement at DeFi Saver, we introduced a very handy widget that can help you pick the correct gas price, as well as pick the best time of day for your transactions.
The new gas widget includes suggested fast, standard and cheap gas prices, together with a 7-day chart of average gas prices, as shown below.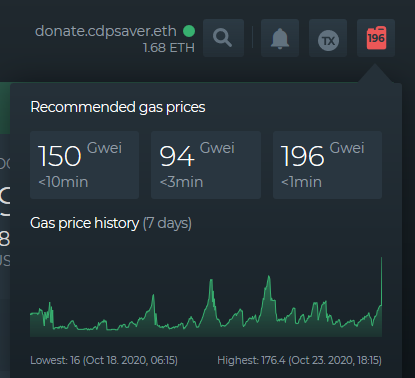 We suggest combining the new gas widget with the tips we shared in our recent How to save on transaction fees post for the best transactions experience all around.👌
The outcome of UNI proposals
Unfortunately, the initiative led by Dharma to airdrop additional UNI for proxied users has reached multiple stumbling points and it is unlikely that it will be brought up again in the future.
The initial proposal to reduce the number of UNI needed to submit a proposal and reach quorum hasn't passed, even though it was only a few percent away from reaching quorum, with an overwhelming number of votes in favor.
And then, the actual proposal for airdropping the new UNI to proxied users (that included multiple hundred DeFi Saver users) was also defeated because it didn't reach quorum even though the votes were overwhelmingly in the support of the proposal.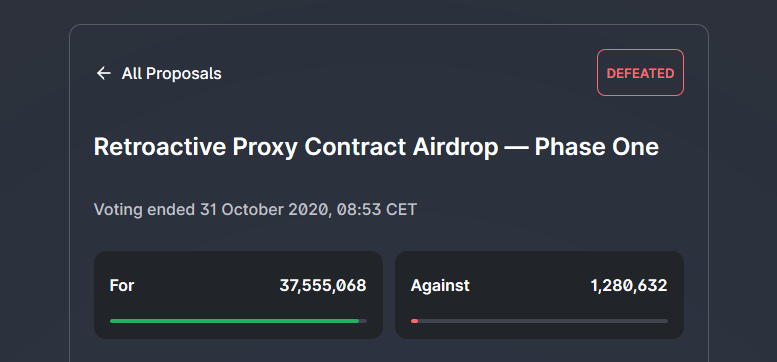 There have been no additional proposals since then and, again, it seems unlikely that this will be proposed for voting again, given how vocally negative a part of the community was, even though it seemed not all points and potential outcomes of the proposal were fully understood.
October stats
As of October 31st, there were a total of 413 MakerDAO, 37 Compound and 20 Aave positions with Automation enabled, with the system managing over 370 000 ETH and 120 WBTC in collateral.
Overall, user activity on DeFi Saver in October resulted in over $23m in volume made through over 1500 unique leveraging and deleveraging transactions.
While this is lower than our just set September record, it was still an amazing month.
Finally, besides the impressive volume numbers, we have once again seen a record for the largest Aave DAI flash loan broken by a DeFi Saver user.

This time, it was a 19,3m DAI flash loan used by someone to leverage their DAI/DAI position on Compound, almost certainly setup to farm COMP tokens.
Community shoutouts
As always, we also want to take a minute to share some of you that showed support for DeFi Saver during the month of October.
Our Loan Shifter release caught quite a few eyes and received a lot of praise.
A well known crypto twitter participant Tetranode asked for thoughts on our Automation features — and he got quite a few replies. This is a thread you might want to check out if you, too, are looking for other users' experience with Automation.
That's it for the October newsletter, but make sure to give DeFi Saver a follow on Twitter, as November releases are already rolling out strong.💪
Stay tuned and talk soon!
Stay connected:
🌍: DeFiSaver.com
💬: Official Discord
📢: Official Twitter