DeFi Saver Newsletter: Issue #40
Welcome to the DeFi Saver Newsletter. We are covering: Automation for Aave V3 on Optimism, DFS on EthCC and ETH. Barcelona, Convex integration...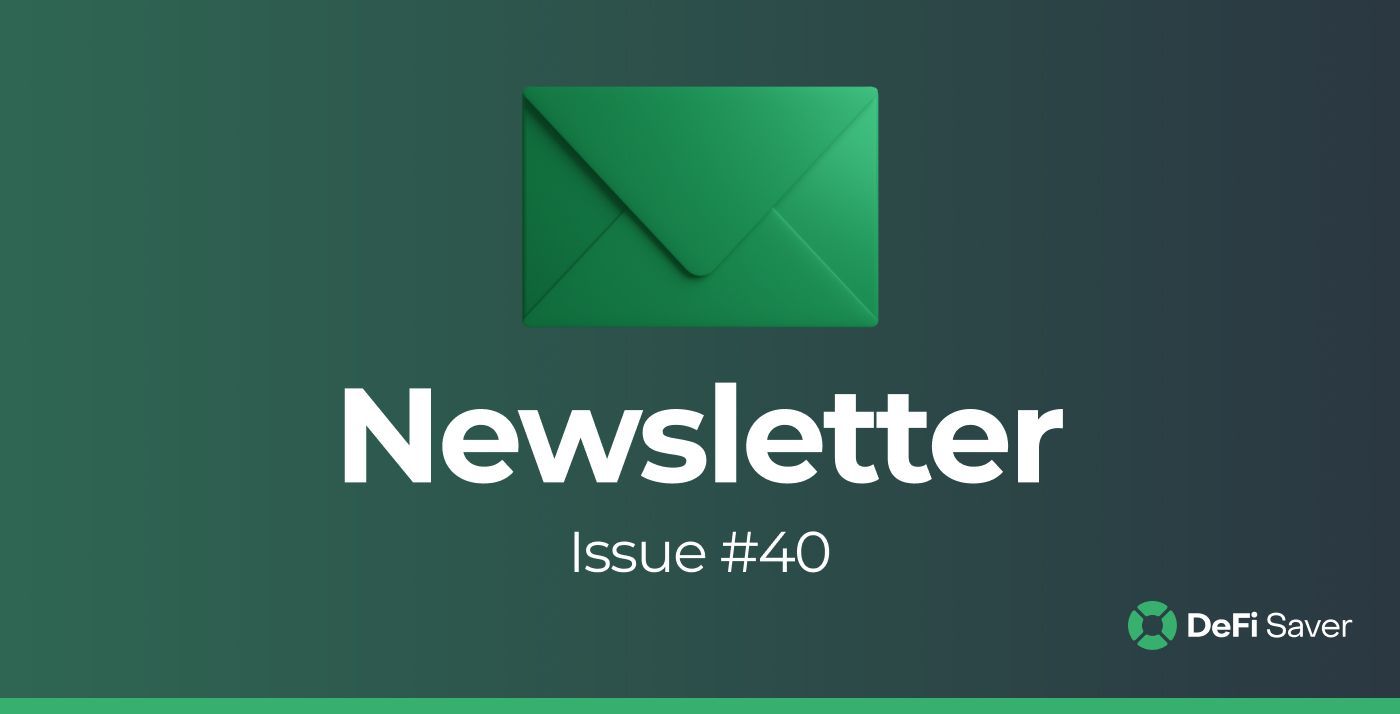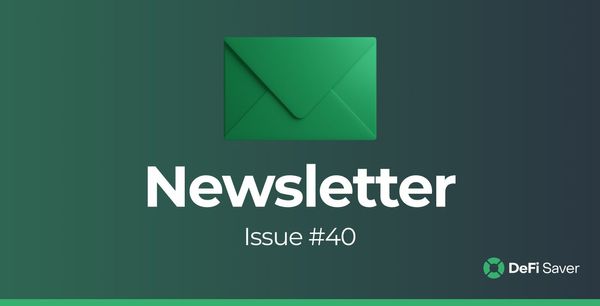 Welcome to our latest newsletter, covering recent DeFi Saver updates, stats and ecosystem happenings!
Newsletter updates
Before we get to the latest juicy bits, we first need to get some maintenance done, so let's just briefly talk about the changes to the newsletter we'll be applying moving forward.
Firstly, there's the name change. Using the last month's name in the title of the post always felt odd and off-putting, if not slightly confusing - "why am I receiving the July newsletter mid-August??". Similarly, using the current month's name doesn't really make sense either, since we're mostly covering last month's events. Because of this we'll just go with numbers and, since this is the 40th month since DeFi Saver went live on Ethereum mainnet in April 2019, this post will be #40.
Secondly, we're simplifying the format of the newsletter in order to ensure they come out quicker and closer to the beginning of each new month. While we liked covering the happenings in the broader crypto world and doing short market analysis in previous posts, our guess is that you subscribed primarily to hear about DeFi Saver updates and you probably already get the other news elsewhere.
Lastly, we'd still like to note that we're always open to feedback, so if you've liked our previous newsletters mostly because of the intro commentary or have suggestions how we can make these better in the future, please do tell us, either in the DFS discord or via Twitter DM.
Now, off to the news!
DeFi Saver news and updates
Summer months can sometimes be slow, but July had two major events for us, as well as some nice smaller happenings.
Automation for Aave v3 on Optimism
Our expansion to L2s continues with our first automation features going live on Optimism, where you can now find our traditional auto-repay and auto-boost combo available for use.
This is by far the most important release for us recently, as automation has provided tremendous quality of life improvements for all users of supported lending protocols, but it started becoming increasingly inaccessible as transaction fees grew higher and higher on Ethereum mainnet (though they've also been surprisingly low for a while, so we'll likely revisit those minimum debt requirements - stay tuned for that!).
With the rise of L2s such as Optimism, we're now finally able to offer automation options to DeFi users in an immensely more accessible environment. If you've maybe been keeping an eye on the DFS Bot feed on twitter, then you probably already noticed that even complex transactions such as boosts and repays can cost as low as ~$0.5.
As a quick reminder, these automation options have two main use cases:
Liquidation protection - if you only enable auto-repay this can be used as liquidation protection for your position, as it will automatically unwind your position in case of market drops and keep
Automated leverage management - with both auto-repay and auto-boost enabled, you can effectively configure and run a constant leverage position, which can be beneficial if the market keeps going in your predicted direction without larger pull backs. This is a concept that our long time DFS discord member @experience wrote about in detail in one of their blog posts.
Moving forward we'll certainly be looking to both offer more varied automated strategies on L2, as well as provide automation options for more protocols in the coming months.
DFS at EthCC 5🇫🇷
The largest Eth EU event of the year took place on July 19-21 in the beautiful (and initially extremely hot) Paris. During our stay at EthCC, we had a booth set up and spent all of the three days at Maison de la Mutualité talking with users, partners from integrated protocols, and really anyone interested in DeFi Saver (or the cute French-themed merch we had).
On the first day, we even had guests from Yearn at the booth, and then later spent the evening at a boat party we co-hosted with people from 0x, Beamer and Sushi.
The second day of EthCC started with some well needed rain after one of the hottest days in the history of Paris, which resulted in a much slower day at the venue (though it may also be the case that many got too rekt at Daivinity the night before).
However, the last day brought the crowd back in and it was a great wrap up of the event, with one of the highlights being Vitalik's speech on the future of Ethereum in front of a packed Grand Amphi Théatre.
We had a blast in Paris and are very glad that we were able to support this year's edition through sponsoring, as it's historically been one of our favourite and most visited events. See you again next year, Paris!
Convex integration added to Smart Savings
In our aim to make DeFi Saver a complete, well rounded solution for utilising decentralised finance, we have added support for Convex, which has very quickly grown into one of the most used protocols in all of defi on Ethereum.
Specifically, Convex has been integrated into our Smart Savings dashboard, where you can now add liquidity into any of their most popular pools in just one, single transaction, with the app handling all the needed steps for you in the process.
As far as we know this is the first Convex integration that offers instant "zapping" in and out, so we're pretty proud of this one. And the yield available is pretty great, too, so we recommend checking it out (and don't forget to try things out in simulation mode first!).
DFS visited ETHBarcelona, too🇪🇸
Visiting as many ETH events as possible has been one of our goals for this year, so we've had a nice three-piece team representing DeFi Saver in Barcelona, too.
While our guys had a great time in Barcelona, we were also saddened to hear that the neighbouring Liscon has been cancelled for this year (though the ETH Lisbon hackathon is still on).
With our most interesting happenings in July covered, we also have two bits of news from projects we support that we wanted to highlight:
Aave shared plans for $GHO stablecoin pegged to USD on the Aave forum (and the initial vote for community approval has already passed!)
0x introduced slippage protection for all trades done using the 0x API, with details available on their blog
July stats
On L1, users made $86M of trade volume during July, with over 1610 unique leverage management transactions and custom recipes done at DeFi Saver. While this has been one of the slowest months this year, this activity trend actually coincides with global dex volume trends.
Across the bridge, on L2s, we saw over 100 leverage management transactions on Arbitrum and another 150 on Optimism, though we're still setting up on-chain activity tracking there, so we probably missed some and we'll be looking to have more accurate transaction and volume numbers on L2s from August onwards.
In terms of Automation on L1, at the end of July there were 160 MakerDAO, 35 Compound and 47 Aave automated positions — a total of 242 unique positions with DFS Automation enabled.🤖
The total amount of managed collateral at the end of July included 63,300 ETH, 800 WBTC, 6,600 stETH, 4,800,000 DAI, 3,800,000 USDC, 95,700 LINK, 23 renBTC and 675,300 MATIC among other collateralized assets. DeFi Saver Automation managed around $153M of collateralized assets in different user-created positions at the end of the month.
Community coverage & shoutouts
There has been some massive coverage of DeFi Saver in July and we really recommend checking out all of these.
First there's the story of DFS laid out by Joel from Decentralised.co with some background story and solid analysis of how and why things worked out well for us so far:
And speaking of stories, there was also an interview with our project lead and head of solidity Nenad done by Token terminal:
Moreover, Nenad also joined one of our Nikolas (this one being the frontend team lead) on a live demo call with our friends from 0x:
And finally, we also have to highlight this great thread explaining our Recipe Creator prepared by Danger and the rest of the team at Today in DeFi:
That would be all for this issue of the DFS newsletter, thank you all for reading and see you again next month!
Stay connected:
🌍: DeFiSaver.com
💬: Official Discord
📢: Official Twitter
🗣️: DeFi Saver Forum