Newsletter
DeFi Saver Newsletter: September 2021
Welcome to the DeFi Saver Newsletter. In this issue we are covering: DeFi Saver news and updates, Maker Risk Team analysis, and September stats.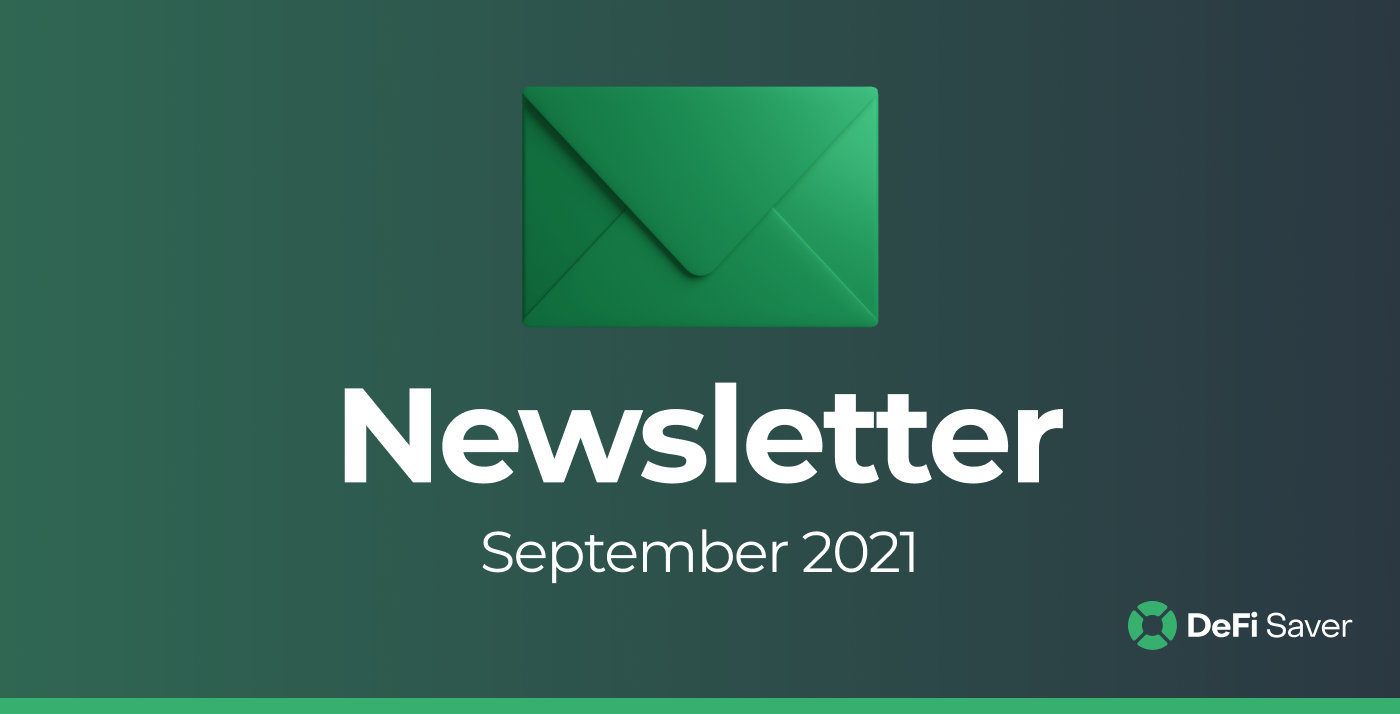 Another September, another tax selloff. Although not clear at the start of the month, soon it was evident that crypto is not immune to the regular market movements and tax obligations. With the US being the primary market, the market witnessed another selloff.
Ethereum together with the heavily correlated DeFi peaked mid-month, continuing the bull run from August, with ETH crossing an important $4k milestone and total DeFi TVL reaching $99B, just before the 2nd biggest crash this year. Ether dropped more than 20% following its impressive summer run. For the first time this year, NFT mania settled in and showed signs of slowing down and even reversal. Nonetheless, we witnessed some big mainstream NFT adoption as TIME magazine released their special NFT's that included a lifetime TIME subscription, selling out in under 1 min and causing gas to spike to record levels for a brief moment.
Contradicting the bear trend that started setting in, some amazing intersections of DeFi and TradFi were announced during the harvest month. To the amazement of many, Societe Generale, the third-largest bank in France casually submitted a MIP on the Maker forum!? Super-detailed proposal creates a framework for SoGe to borrow 20M DAI from MakerDAO to refinance their euro bonds. At the same time, Visa shared its plans for an interoperable settlement layer for CBDC's on Ethereum. NFT's saw two huge news paving the way for mainstream adoption with TikTok announcing an NFT integration powered by Immutable X while some Twitter employees shared an upcoming NFT integration - profile verification the company is working on.
Another one in the line of China FUDs didn't miss September either. This time there were signs that more than just FUD was prepared, with several big miners, crypto, and defi companies shutting down their operations. The SparkPool mining pool, creator of famous and loved GasNow info website, providing gas prices for Ethereum announced shutting down. Given the fact that we used GasNow's API and were fans of the website, we're sorry to see GasNow go.
DeFi Saver News and updates
Wallet and account management UX overhaul
We are in the process of redesigning different elements of our UI and UX. The frontend team is working hard on improving every little thing when interacting with DeFi Saver. In September we released one of the first and in our eyes quite important UX overhauls. UI and UX of wallet and account management, the primary step when interacting with DeFi Saver was entirely redesigned with the intention to expand functionality and make the flow more intuitive from the start.
The new window now gives a larger overview of supported software and hardware wallets one can use to interact with the app, with the option to use Simulation and test everything out more easily available from the get-go. Some other improvements include a more approachable overview of connected wallets, address tracking, and a history of tracked addresses.
DeFi Saver blog moves from Medium to Ghost
As you've perhaps noticed, we've made a decision to move our blog from the Medium platform to Ghost. This decision came from recent news of some DeFi apps seeing their content removed as well as from our desire to align more with our ethos of relying more on open-source solutions in our work.
The new blog is now available at blog.defisaver.com - make sure to bookmark it and check in every few weeks!
Maker Risk Team detailed analysis

Something that really stood out this month is a vault protection score analysis by Jan Osolnik from Maker's Risk team. Risk team crew looked at the individual vault's behavioral patterns and score them into three tiers: Low, Medium, and High Risk.
Jan did amazing work on creating a methodology for assessing vault level risk. If you are interested in Maker or are actively using the protocol, we suggest going over the detailed analysis -> https://forum.makerdao.com/t/maker-vault-protection-score/10532
An overall conclusion Jan provided is that Vaults being protected by DeFi Saver show a strong indication of security.
Vault size protected by DeFi Saver ranges from 7k to 50m, with a median size of 100k which is almost 5x the overall median vault size in the Maker's MCD system (22k). Currently, 8% of debt exposure is subscribed to their services.
September Stats
In terms of activity at DeFi Saver, we witnessed an increase in September, with some unusual spike in exchange usage. Still, the numbers remain steady since the peak in May this year.
In total, users made $438m of actual trade volume in various leverage management actions and custom recipes during September, with over 5,600 transactions unique to DeFi Saver executed.
In terms of Automation specifically, at the end of September, there were 430 MakerDAO, 46 Compound, and 41 Aave automated positions — a total of 517 with Automation enabled.🤖
The total amount of managed collateral at the end of September was 172,799 ETH, 607 WBTC, 171,157 UNI, and 62 YFI among other collateralized assets. In total, DeFi Saver Automation was managing over $600m of collateralized assets in different user-created positions at the end of September.
Community shoutouts
Looking at some kind words and mentions shared last month, we want to extend our gratitude to Arcane Bear for a detailed overview of DeFi Saver in their Medium article: https://medium.com/@thearcanebear/wtf-is-defisaver-d41e5fc94d69
We love Darren and his work. Shoutout to the 3Lau crew! Darren dropped a killer thread about future potential airdrops, including DFS as one of those on his list. Although this drew a lot of attention and even some traffic, we still would like to emphasize that no DFS token is planned still. There is of course a chance that this might change in the future, but no plans are being made and we feel it is important to point that out.
Andrew doesn't miss an opportunity to give us a nice little shoutout as usual ;)
Here's Kolten from Liquity mentioning DFS as one of the important Liquity integrations:
Lastly, we want to mention that we're celebrating an important milestone in September - two years since the launch of our Automation system! 🥳 With a lot more in store for Automation by the end of the year, we are looking forward to making important steps in L2 direction and providing the service to more and more users in the future.
Stay connected:
🌍: DeFiSaver.com
💬: Official Discord
📢: Official Twitter
🗣️: DeFi Saver Forum