Meet the team and the story behind DeFi Saver
Did you know DeFi Saver was being broadcast to you via the interweb from Belgrade, Serbia, Central Balkans, Southeastern Europe? We are…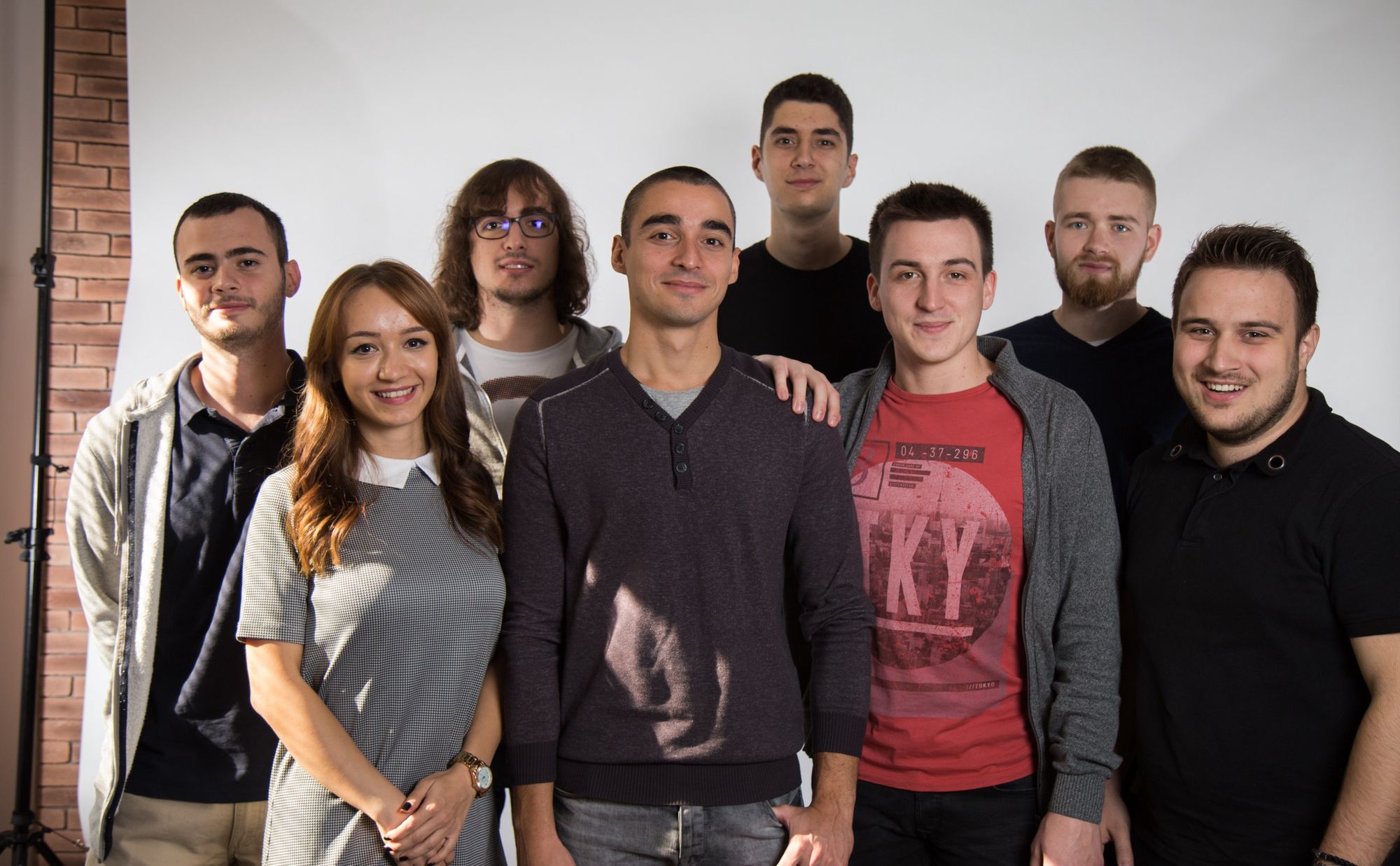 Did you know DeFi Saver was being broadcast to you via the interweb from Belgrade, Serbia, Central Balkans, Southeastern Europe? We are guessing that's a no and we think it's high time you met the team behind your favourite dapp.
Introducing Decenter
It was August 2017 when a group of programmers decided to part ways with their current positions and form a blockchain project incubator. The mission from Day 1 was to build decentralized applications and solutions, and contribute to the Ethereum ecosystem and the decentralization movement in general. The name, then, wasn't too difficult to figure out (though we have come across a couple of other teams globally repping the exact same one): Decenter was born.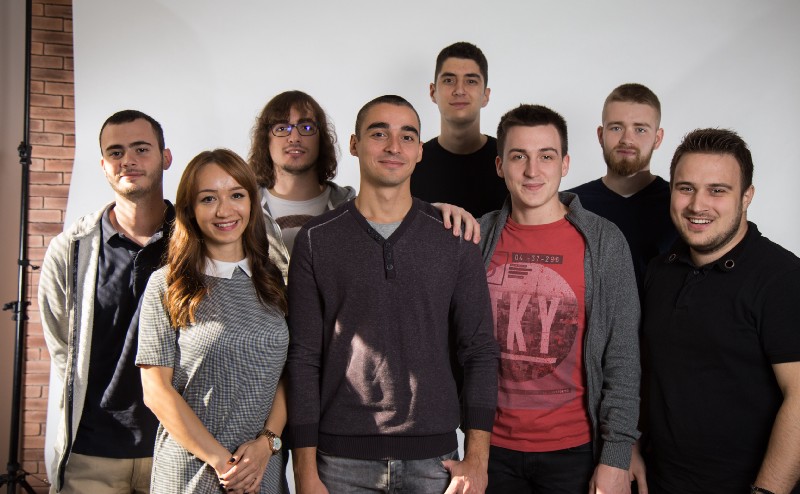 Initially, the team consisted solely out of developers, but over the next year we've had more people join with different focuses, including graphic design, content writing and business development. Though most members had already been developing within the ecosystem over the previous year or so, some have been following Ethereum from the very earliest days of the Whitepaper — way before it became clear it would become the leading dapp & smart contract platform.
The first thing we did as a team to kick things off was organize a hackathon for the local blockchain community. The cool part was that everything was run using smart contract code — team registration, jury votes, prize payouts, the lot. Once the hackathon was over, however, it was time to start working on new solutions.
Commence BUIDLing
One of our first projects was ΞXTΞND, a Chrome extension that allowed redditors to tip others in ETH or give gold using ETH. It was very well received by the community, but simultaneously we were also working on something potentially much greater. We partnered with MelonPort (now known as Melon Protocol, curiously one of the first actors in decentralized finance) to work on Melon Mail, a secure, completely decentralized messaging service powered by Ethereum and IPFS. You can still test it over at Melon.email, just make sure to bring some Kovan ETH.
Come 2018 and the Ethereum community was looking for new approaches to grow adoption, and so were we. This is when we started working on what is potentially still our largest project in terms of sheer resources we've put in: Cryptage Origins — a blockchain game that fused idle strategy and card trading, both of which seemed to be a great fit for the first generation of games backed by the Ethereum blockchain.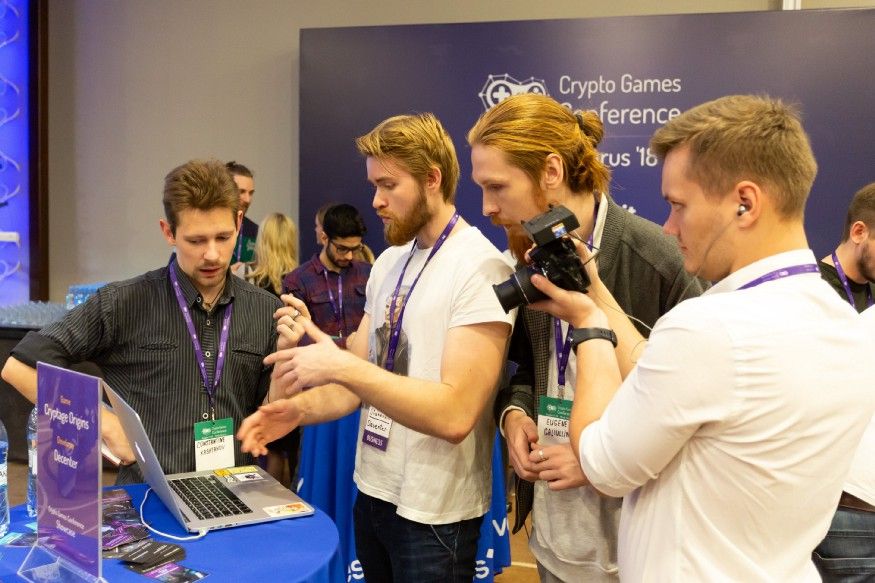 During the same time, around mid-2018, we had another excursion into the world of ERC-721s with Cryptographics. Mostly based on ideas from Vukasin, our UX and graphic designer, Cryptographics is a complete ecosystem that revolves around provably-unique user generated graphics created from artist-provided asset packs. It may sound complex, but we've put a lot of thought into the user experience and the dapp actually explains itself very well, so feel free to give it a test run.
We take great pride in saying that by that point we've been through the whole period of ICO mania without really taking any part in it. We never conducted an ICO or a pre-sale of tokens or items for any of our projects and instead focused on providing actual value to the Ethereum community and users. Another example of this was Etherships, our demo of using state channels technology for creating a pleasant 1v1 gaming experience on Ethereum.
Over these past two years we've had the pleasure of working with or providing security audits for some of the greatest teams in the community such as SpankChain, District0x, Ethfinex and Melon. And speaking of smart contract audits, we also launched SmartContractAudits.com a year ago as a platform that helps project owners and auditors connect.
In late 2018 it became clear to us that blockchain-based games and NFTs in general likely won't be the Ethereum killer app, so it was the perfect time for a team-wide restart. So we headed out on a three-week workation in Thailand.
The inception of DeFi Saver
Our stay in Thailand coincided with the big ETH drop of 2018, the one when it went all the way down to $80s in December. This gave Nenad, our project leader and the riskiest CDP user on the team at that time, quite a few scares while riding with the rest of us around Chiang Mai. It quickly became clear how handy it would be to have an app that could help you avoid CDP liquidation and the 13% penalty fee which is when the idea of CDP Saver (now known as DeFi Saver) first came to be.
We started working on the project as soon as we got back to Belgrade and introduced the first test build on the Kovan testnet in March, with the initial live build on the mainnet coming out a month later in April. The reactions from the community were a clear signal that people would love to have a tool to protect themselves against CDP liquidations.
At the time, DeFi Saver only offered manual Boost and Repay for CDP users, but also provided the first-ever CDP Marketplace as a means for CDP owners to sell their CDP in order to get to the underlying collateral when not able to pay back debt. However, the Marketplace has since been removed since it hasn't received much traction and our focus shifted to other features.
Speaking of other features, it wasn't long until we realized the true power of DeFi lies in interconnecting protocols and so we added Compound support in June. Soon afterwards, we also integrated dYdX and Fulcrum protocols and introduced Smart Savings in August. Most recently, we launched CDP Automation that provides automatic liquidation protection and leveraging in September. It was our most anticipated feature and we're proud to share that our Automation system currently manages 77 CDPs with over 17 500 ETH (more than $3 Million worth of collateral).
We've also always strived to make it to as many Ethereum events as possible and some of you recently had the chance to meet us at Berlin Blockchain Week 2019 and DeFi Summit 2019 in London. We're currently on the lookout for our next stop, so feel free to ping us if you know of any events we shouldn't miss.
This is our story so far. We have been building on Ethereum since 2017, providing security audits since 2018 and working on DeFi Saver throughout 2019. We are very excited about being part of the decentralized finance movement and building DeFi Saver and we cannot thank you enough for all the support. We'll have more updates to share very soon.😉
Stay connected:
🌍: DeFiSaver.com
💬: Official Discord
📢: Official Twitter account