Creating leveraged CDPs and USDC support now live in DeFi Saver
Today we are introducing two new additions to our MakerDAO management dashboard, one that will further simplify the process of leveraging…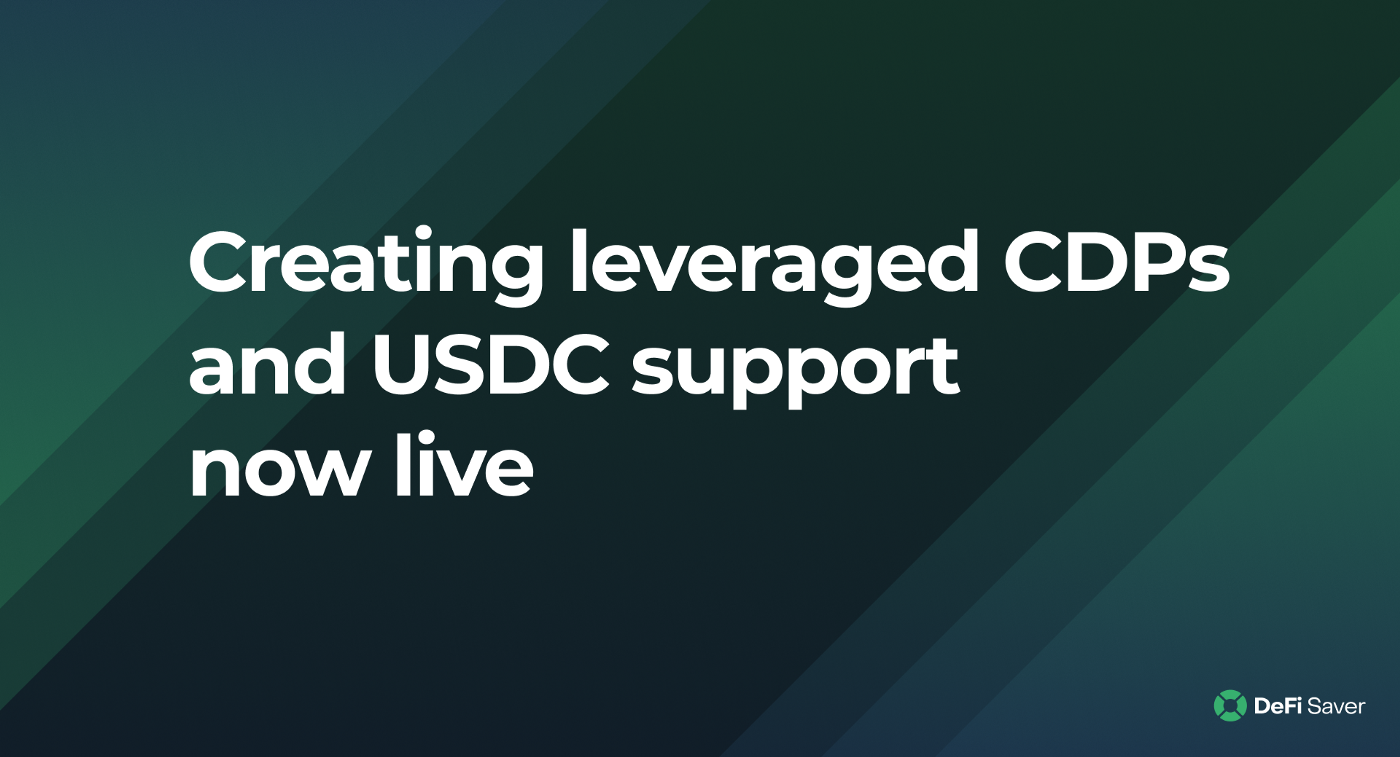 Today we are introducing two new additions to our MakerDAO management dashboard, one that will further simplify the process of leveraging ETH using Maker and one that adds support for a recently introduced collateral type.
Let's dive right in.
Creating leveraged CDPs
It's no secret that the MakerDAO protocol is most often used as a decentralized tool to leverage Ether. You lock in ETH, generate DAI, buy more ETH to increase leverage and hope that the market goes up from there.
Starting today, you can create a CDP that is leveraged right away. You no longer need to generate that 20 DAI minimum and then use Boost, or generate DAI and use it to obtain ETH manually. Instead, all the generated DAI is instantly used to increase leverage and the interface will tell you just how much exposure you'll be gaining.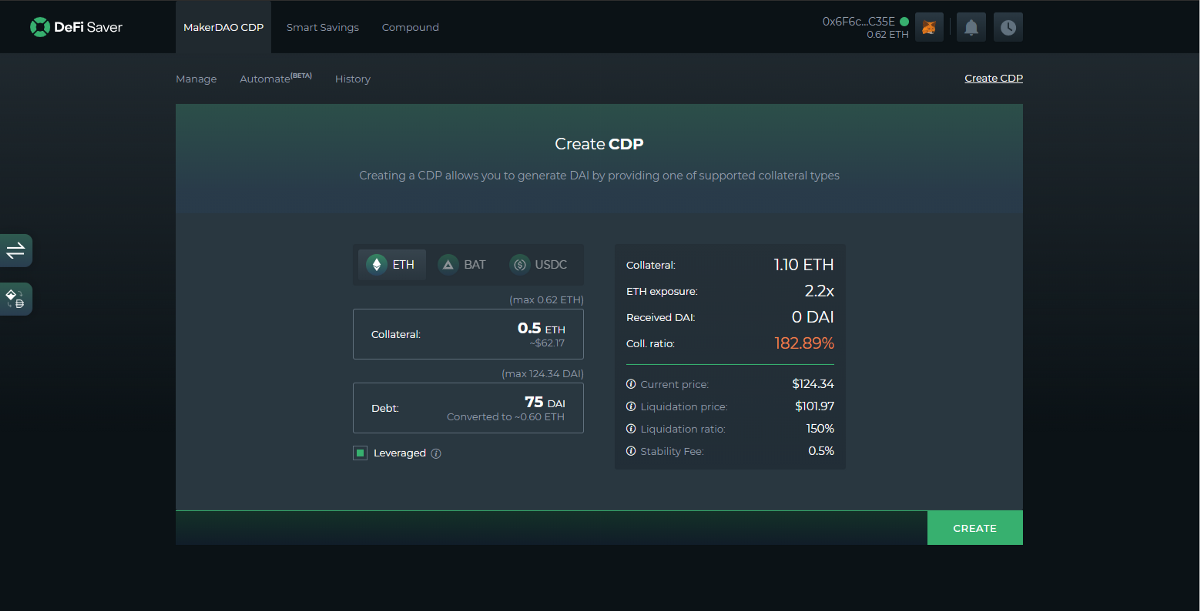 The interesting part is that this is actually another flash loan powered feature (Hi, Aave fam!👋) and the exact process in the background is as follows:
Flash loan DAI for obtaining additional ETH
Convert DAI to ETH via DEX (Kyber, Uniswap, Oasis, 0x)
Create a CDP with this ETH + originally selected ETH
Generate DAI from the CDP to pay back the flash loan debt
Pay back DAI flash loan debt
Your leveraged position is ready.☑️
Creating leveraged positions is supported for all collateral types supported by MakerDAO: ETH, BAT and USDC.
And speaking of USDC…
Support for USDC CDPs
After the events of Black Thursday, the MakerDAO governance chose to add USDC as a supported collateral type in order to help improve DAI liquidity.
The protocol parameters for USDC are quite a bit different than what we're used to with ETH and BAT, though: Stability fee is at 20%, minimum collateralization ratio is 125%, the collateral price is fixed at $1 and liquidations are currently disabled (please note that this will very likely change in the future).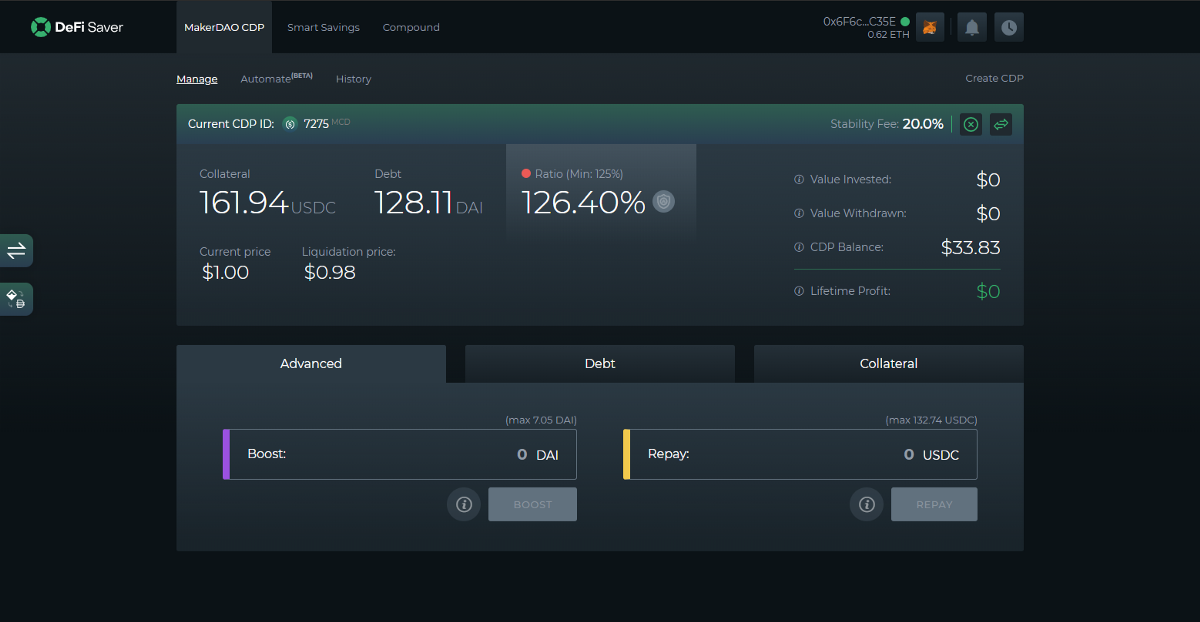 Newly introduced USDC CDPs are now fully supported in DeFi Saver, including our signature Boost and Repay features for 1-transaction leverage increase or decrease.
All of the mentioned additions are now available in our MakerDAO dashboard. As always, we welcome all feedback and comments, so please join us in the comments below or in our Discord server.
P.S. In case you missed it, we released our post covering the events from Black Thursday yesterday. We think it's worth the read.
Stay connected:
🌍: DeFiSaver.com
💬: Official Discord
📢: Official Twitter