DeFi Saver is now LIVE on Base
DeFi Saver launches on a third (optimistic) layer 2 solution - Base, expanding the lending possibilities on L2s with the support for Compound v3 and Aave v3.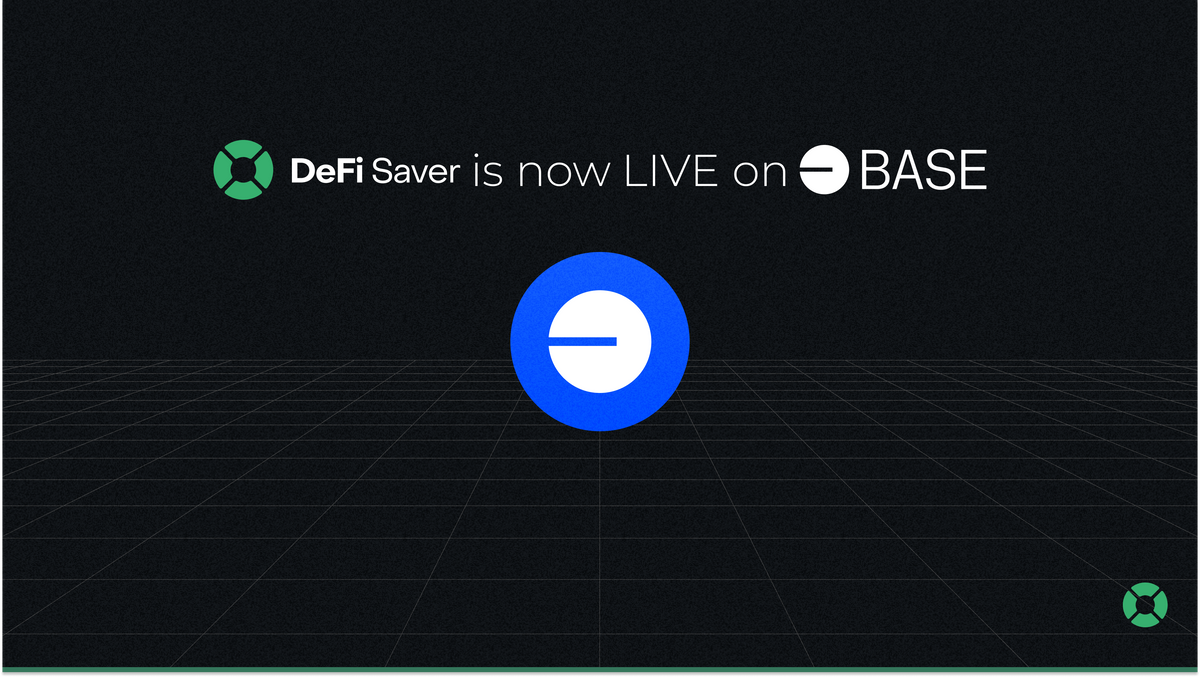 It has been over one year since we went live on Arbitrum and Optimism back in the trendy #L222, with the goal of making DeFi accessible to everyone (once again), thanks to significantly lower transaction fees on Ethereum rollups.
During this period, we've seen 150,000+ transactions of various types flowing through DeFi Saver on L2 networks, however, the average transaction size has been predictably smaller in comparison to Mainnet, proving the need for cheaper transactions to achieve widespread adoption of DeFi services.
Lowering the entry barrier has been Ethereum's mission for a long time now, and we are pleased to be in a position to contribute.
Today we are excited to share that we're expanding our services to a third, and the third-largest Ethereum rollup (according to L2Beat.com at the time of writing) - Base chain.
About Base
Base is an optimistic Ethereum rollup built on top of Optimism's OP stack. The Base chain, in this regard, shares a comparable risk profile with Optimism rollup, which includes the ongoing development of the fraud proof system, the smart contracts upgradeability, and currently centralized validators. We highly recommend that individuals educate themselves about these risks prior to getting involved.
Following OP stack, Base also inherits the Ethereum security, as well as the EVM compatibility, meaning that any project can deploy to it with minimal or no modifications.
Incubated in and empowered by Coinbase, Base chain was launched in February (testnet), while the mainnet rolled out in August earlier this year. With a lot of blue chip projects joining early, it has quickly gained traction and became one of the most liquid L2, rising above multiple recently launched ZK solutions.

It's also worth noting that Base team plans to progressively decentralize the chain over time, however, unlike the two leaders in the rollup space, they have no plans on issuing a new network token.
Lending and borrowing on Base with Aave and Compound
The lending space on Base had seen two major players joining in August. Namely both Compound v3 and Aave v3 deployed their markets on Base recently, therefore, capturing our focus.
As we've seen a very good adoption of Aave v3 on both Arbitrum and Optimism, it made sense for us to continue its support on Base chain as well. In addition to Aave v3, in this release you'll find all the currently offered Compound v3 markets, USDbC and ETH, both of which are incentivized with COMP distribution.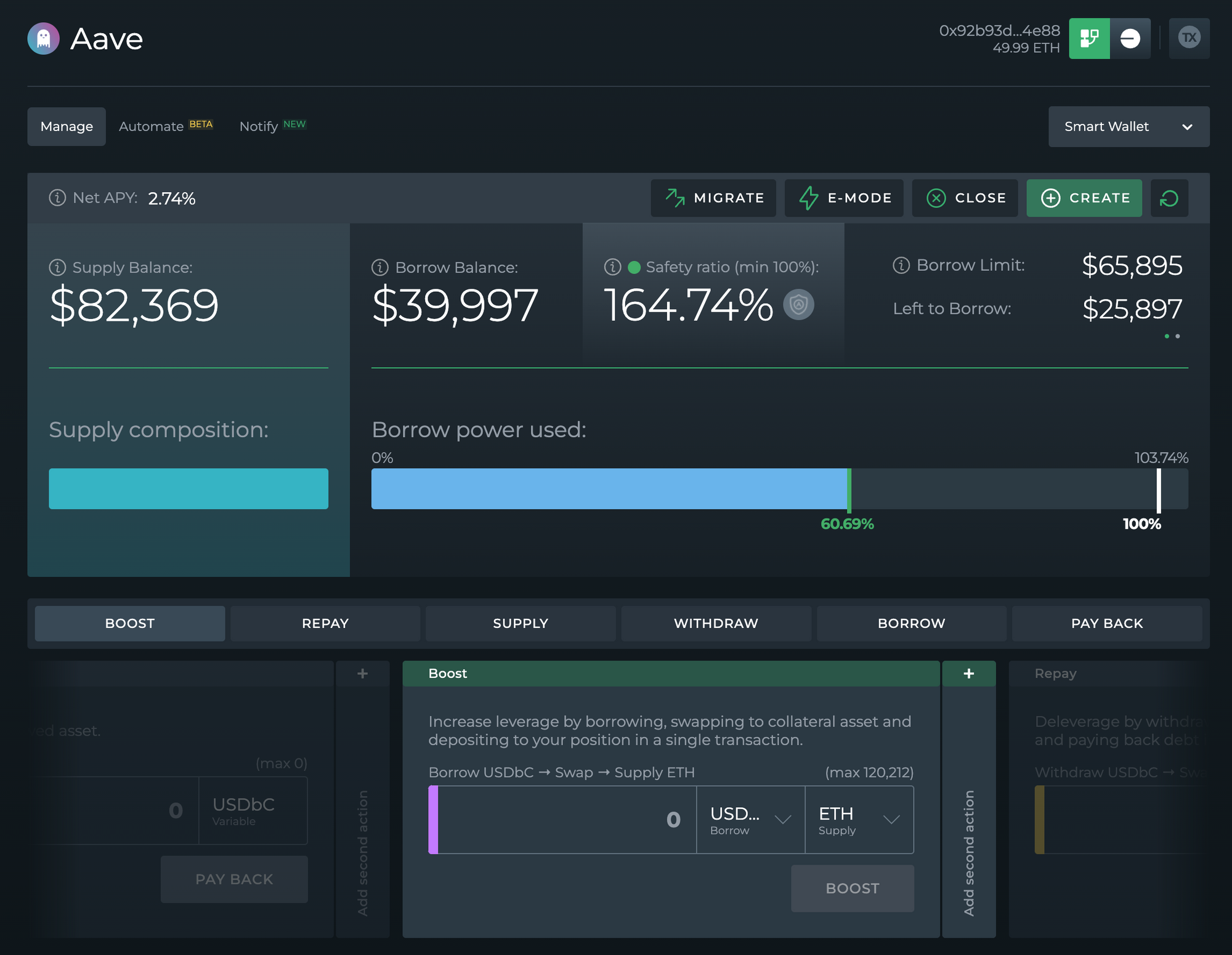 Considering the fact that Base is relatively young L2 solution, one thing we'd recommend to any and all users looking to migrate from Mainnet to L2 is to check liquidity and general asset availability of any tokens they're looking to potentially leverage. Liquidity itself being one of the key reasons why money markets like Compound and Aave are taking a more conservative approach on new chains when it comes to onboarding new assets.
The DeFi Saver experience you expect
As you may have already noticed, we usually lean towards comprehensive initial releases in terms of features, and let us assure you, this one is no different.
The initial deployment on Base comes with a wide-ranging set of features, including:

- Signature Boost & Repay options for leverage management
- 1-click (leveraged) position creation and unwinding
- DFS Exchange (aggregating Paraswap, 1inch, 0x, and KyberSwap)
- Bridge dashboard (powered by Li.Fi)
- Portfolio page
- Simulation tool offering testing environment
Dedicated Compound v3 and Aave v3 dashboards are equipped with our 1-click position management features, as well as the options for creating and closing positions in one transaction.
We have also prepared an Exchange page integrating 4 different DEX aggregators, thus essentially offering meta aggregation with zero fees.
Users who haven't moved any assets to Base so far will have our Bridge dashboard at their disposal, powered by bridging aggregator - Li.Fi.
Last but not least, all of the aforementioned features are available in our recently upgraded Simulation mode which now includes a token balance top-ups for easier testing.
Upcoming developments
With the initial L2 release now behind us, we aim to keep the ball rolling with regular feature updates.
Moving forward, as lending activity on Base picks up steam, we plan to provide automated strategies for both Aave v3 and Compound v3 users, most notably automated liquidation protection.
Introducing a yield dashboard on L2s (aka Smart Savings) has been in the plans for some time now, as we believe it would enhance the feature set offered especially in combination with lending, and Base being no exception.
Furthermore, considering the Base already has both Aave and Compound markets live, it would make sense to add a Loan Shifter at some point. We we also be looking for feasable solutions to enable the bridging of whole positions in the coming months, though there is currently no ETA for this feature.
In terms of integrations, you can expect to see support for other blue chip lending protocols, once they come on board. We will also be on the lookout for new interesting players in the lending ecosystem which is getting more robust each day.
As always, we're open to all ideas and suggestions you may have on either new integrations or new automated strategies, so make sure to join the DFS discord and let us know.

Catch you in the realm of low transaction costs!