DeFi Saver Newsletter: June 2020
Welcome to the second release of our new monthly newsletter series, covering recent events, updates and stats from the month behind us!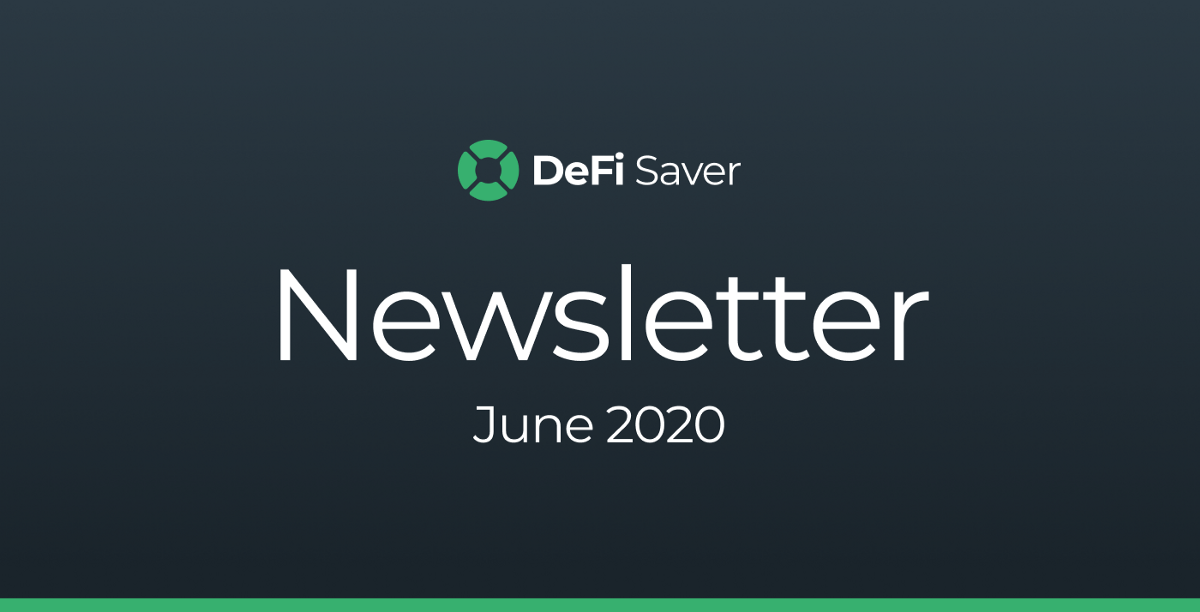 June was a bit of a slow month in terms of crypto market happenings, but boy was a lot of stuff going on in the world of decentralized finance nevertheless. Most notable event must have been the launch of the Compound protocol governance token (COMP) and the farming craze that followed. This quickly allowed Compound to overtake MakerDAO in total value locked, for the first time ever.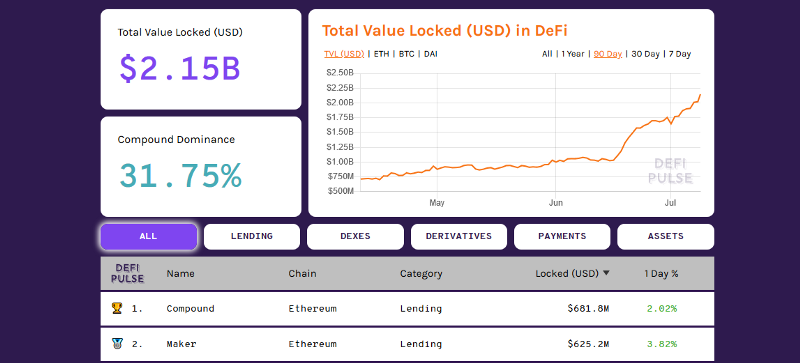 The COMP tokens launch also coincided with the introduction of our brand new, completely redesigned Compound dashboard, which was our main new release for June. But this certainly wasn't the only new bit of DeFi Saver news in the past month, so let's go over some of the most important happenings.
DeFi Saver news and updates
The recently discovered Exchange vulnerability
Security has always been number one on our priorities list and this unfortunate event has to be the first topic of the newsletter. We shared the information about this in our initial blog post, but here is another recap:
On June 19 an anonymous white hat reached out to us to warn us about a potential vulnerability he located in our Exchange smart contract
We confirmed the vulnerability within the next hour and started preparing a plan to protect affected users and their assets
The decision was made to execute a white hat attack in order to prevent anyone else from running away with the funds
As soon as the white hat attack was performed, some two hours later, we shared information publicly and provided a simple interface for users to secure their accounts and withdraw their funds back
No funds were lost or stolen and the anonymous white hat was awarded with a bug bounty
As of now there are still a few accounts that need to be secured against the discovered vulnerability, so if you haven't already done this, please visit https://app.defisaver.com/safeguard with any of the accounts you used to make sure there are no insecure approvals remaining.
We would also like to highlight once again that this vulnerability only affected accounts that specifically used our separate Exchange. Any accounts that never used it (and only stuck to our MakerDAO, Smart Savings and Compound dashboards) were not affected in any way and neither was our Automation system.
We are currently in the last stages of work on the updated and patched Exchange smart contracts and the DeFi Saver Exchange will make a return in the next few weeks.
If you have any questions about this, you can always find us in the DeFi Saver discord.
Our new Compound dashboard and the COMP mining craze
Our most important release in June was definitely the completely overhauled Compound dashboard. This includes both a new design that greatly improved functionality, as well as addition of new features, most notably Boost and Repay.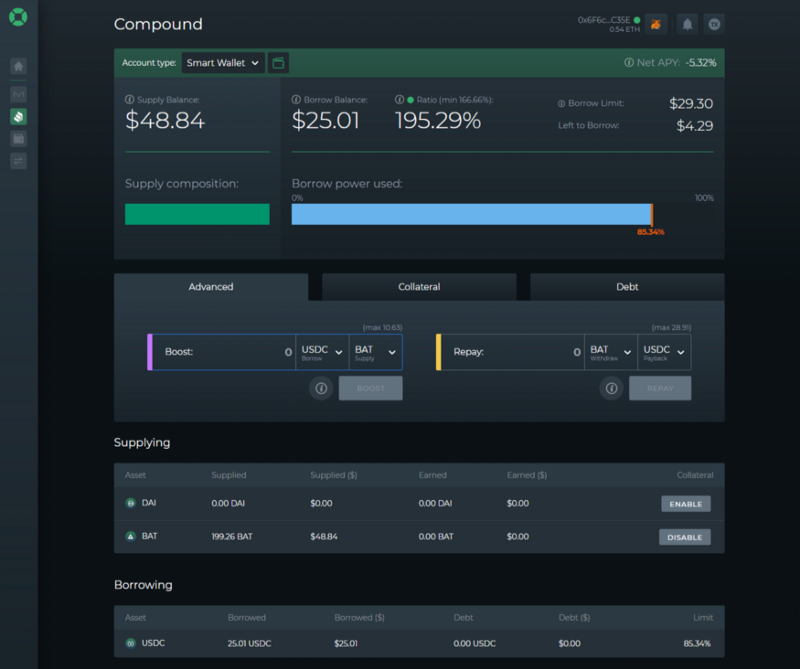 The goal of the redesign was to have all the information on your whole portfolio available right there on one page, instead of the one page per asset approach we had in place for Compound previously.
Besides the new design, we also introduced Boost and Repay for Compound positions, which are made possible with the use of the Smart Wallet. The Smart Wallet is actually still the standard MakerDAO DSProxy that we like to use for everything in DeFi Saver, as it is a very capable smart contract wallet, and one that's been heavily audited and heavily battle tested.
Furthermore, there are also some features specifically focused on COMP earning, or farming if you will. Of course, there's the option to withdraw any earned COMP to your account that you can now find in the top left of the Compound dashboard.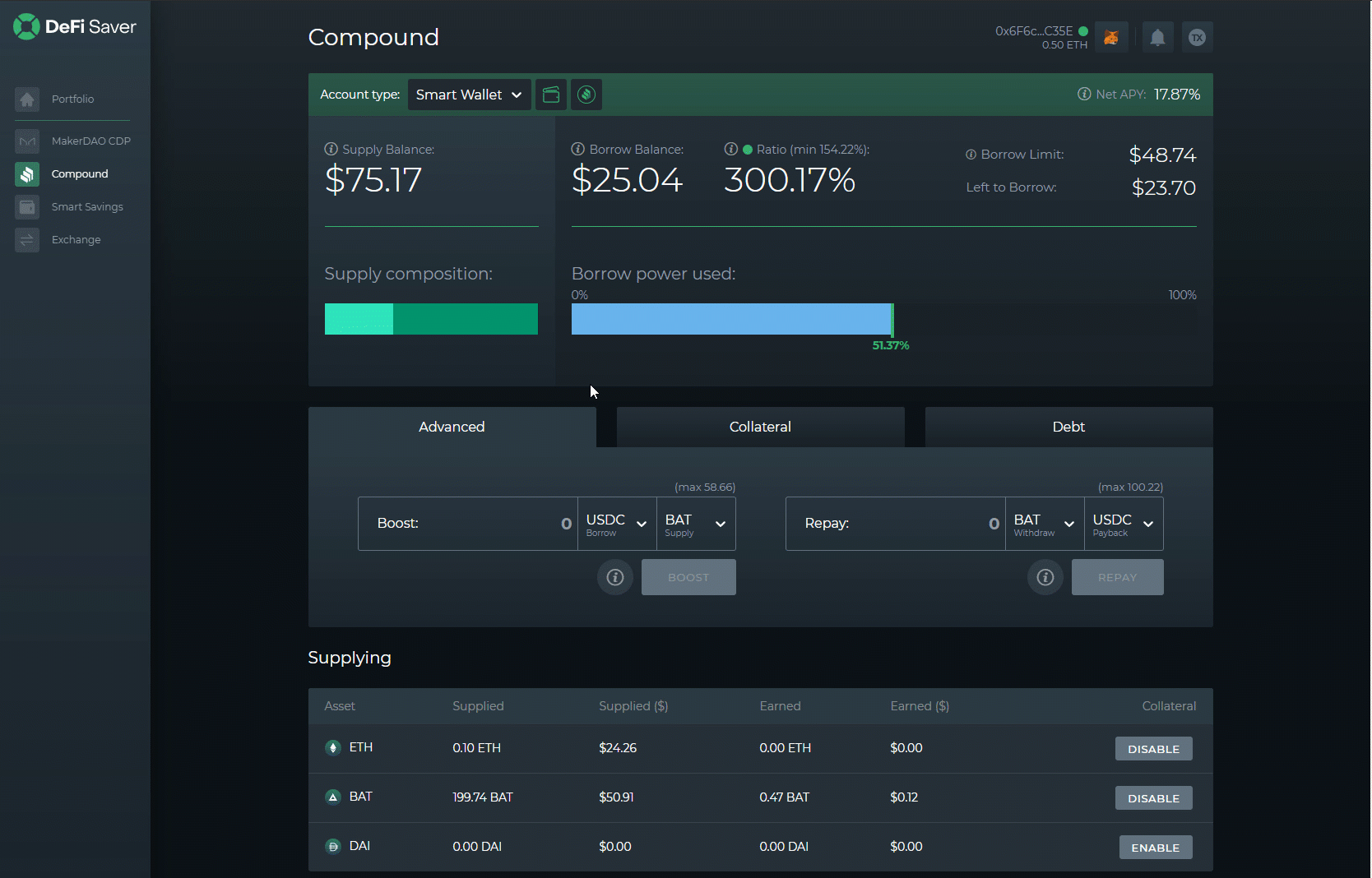 But there's also the interesting option to supply and borrow the same asset pair, which also means that you can Boost or Repay a same asset pair, as shown in the example below.
This is definitely not the end of our work on Compound and there's more coming. Would anyone be interested in Automation for Compound, for example?😉
Portfolio page introduction and global UI update
Together with the release of the new Compound dashboard, we included a slight update to the whole interface, moving the app to https://app.defisaver.com/ and adding a brand new portfolio overview page.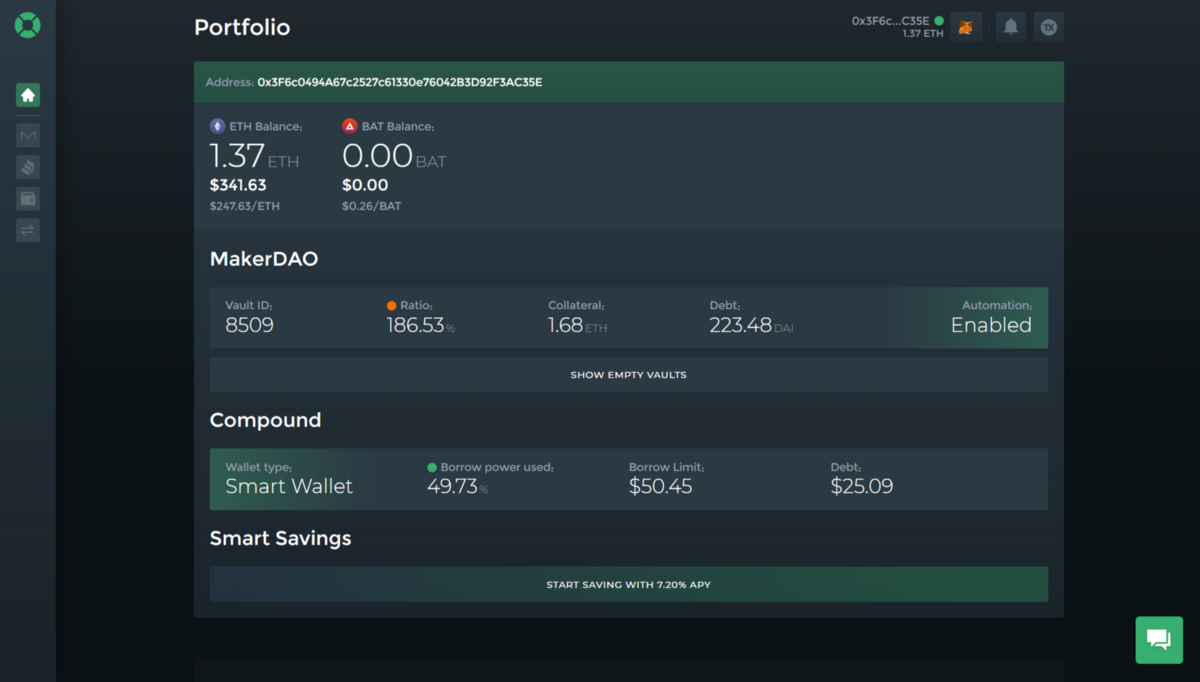 The goal of the portfolio page is to provide a quick overview of all user's positions in supported protocols, as well as their account token balances.
This is just the initial release and the portfolio page will definitely receive regular updates, so please feel free to share any feedback on what you would like to see included here!
As an additional improvement to portfolio tracking, we are also currently working on the ability to track an account in DeFi Saver without having to connect your wallet, something that you guys have regularly asked about.
MakerDAO introduces ZRX and KNC (and so do we)
During June, MakerDAO Governance voted in and onboarded two new collateral types which have already received the full DeFi Saver treatment: ZRX and KNC.
This means that you can now create an instantly leveraged CDP, use Boost and Repay and also instantly close down a leveraged CDP for all collateral types supported in MakerDAO.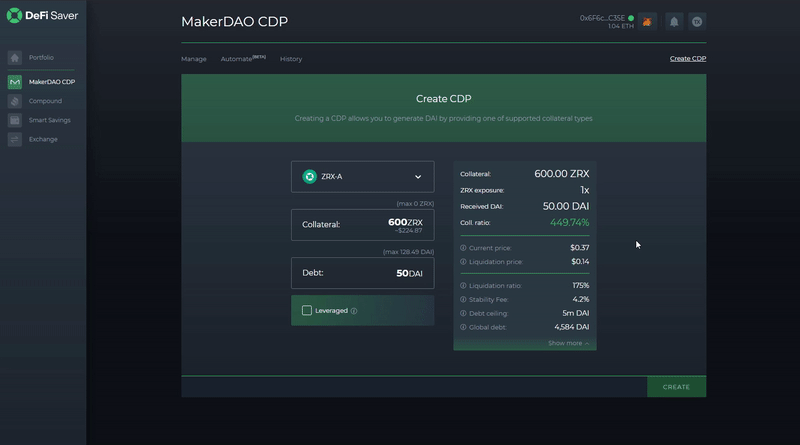 Automation support for these two new collateral types will also be added in the next few days.
June stats
As of June 30th, there were a total of 355 Maker positions with Automation enabled, with the system managing a total of 64,500 ETH, 39 WBTC and 250,000 BAT in collateral.
All of the positions that were lagging behind with their migration to Automation v2 have now been updated and the stats you can find at https://app.defisaver.com/stats are now complete and fully up to date.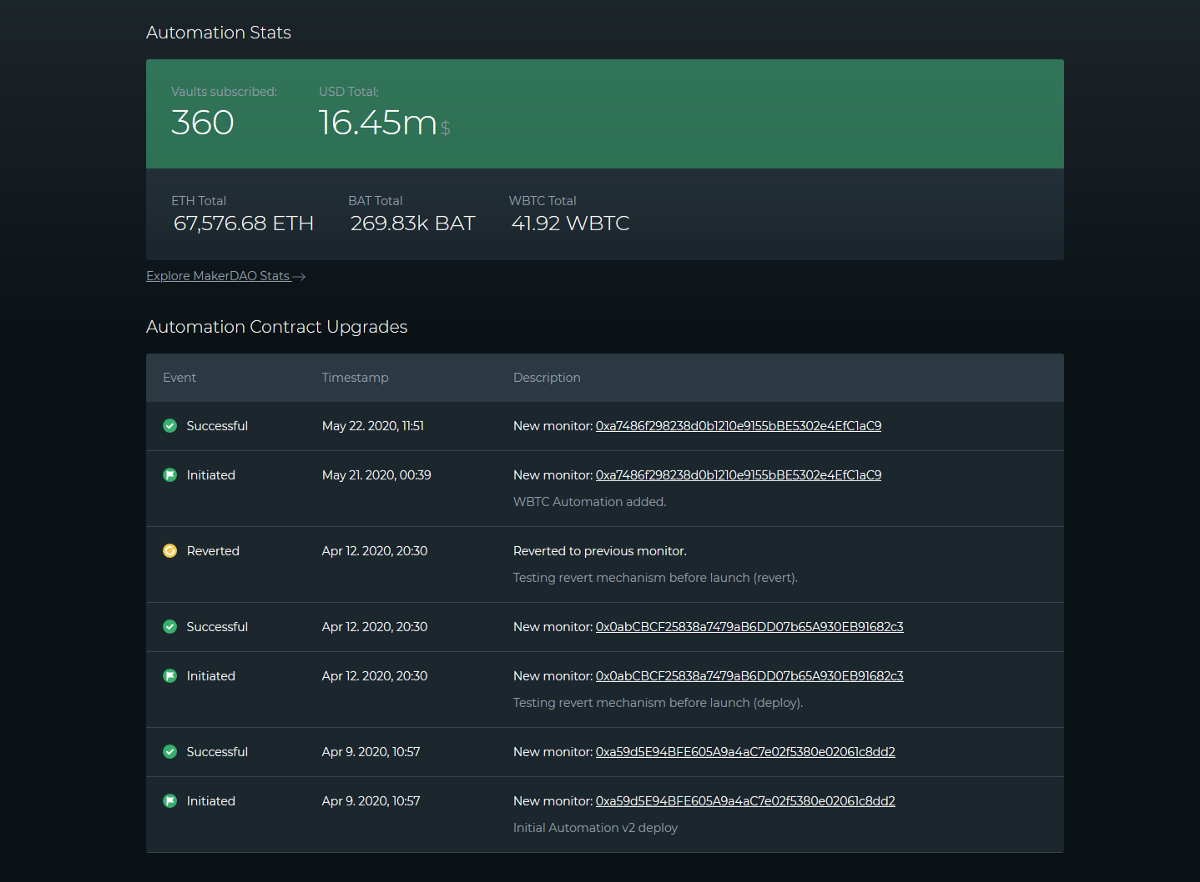 Overall, June was a fairly slow month, as mentioned, but it still resulted in over $4,3m volume in leverage management actions at DeFi Saver. This was done in some 1200 unique transactions, which sets the average transaction size at a pretty impressive ~$3,5k.
Community shoutouts
We greatly appreciate all community support and wanted to once again take a moment to show some love to all of those who helped us spread the story of DeFi Saver.
DeFi Dad once more went out to share his appreciation for the MakerDAO management tools available at DeFi Saver:
We're sure he'll also appreciate that he soon won't even need to login with his wallet to do this.😏
The WalletConnect and Rainbow teams also had kind words to share, after we updated our WalletConnect integration as soon as their new mobile linking feature went live:
For anyone who hasn't heard about this, it means that you can now simply use the default browser on your smartphone to login into dapps via WalletConnect on the same device. Click the tweet below to see a short demo, it's really very handy.
And most recently we've had users sharing our new Compound tools and appreciating some of the optimizations we've put in place, such as the gas optimized COMP withdrawal process:
Hope you enjoyed our rundown of events that took place in June and we cannot wait to share the updates we're working on right now.
Stay tuned and talk soon!
Stay connected:
🌍: DeFiSaver.com
💬: Official Discord
📢: Official Twitter