Newsletter
DeFi Saver Newsletter: August 2021
Creating instantly leveraged Liquity Troves, MakerDAO Automation updates, Added support for depositing to Yearn vaults,DeFi Explore design update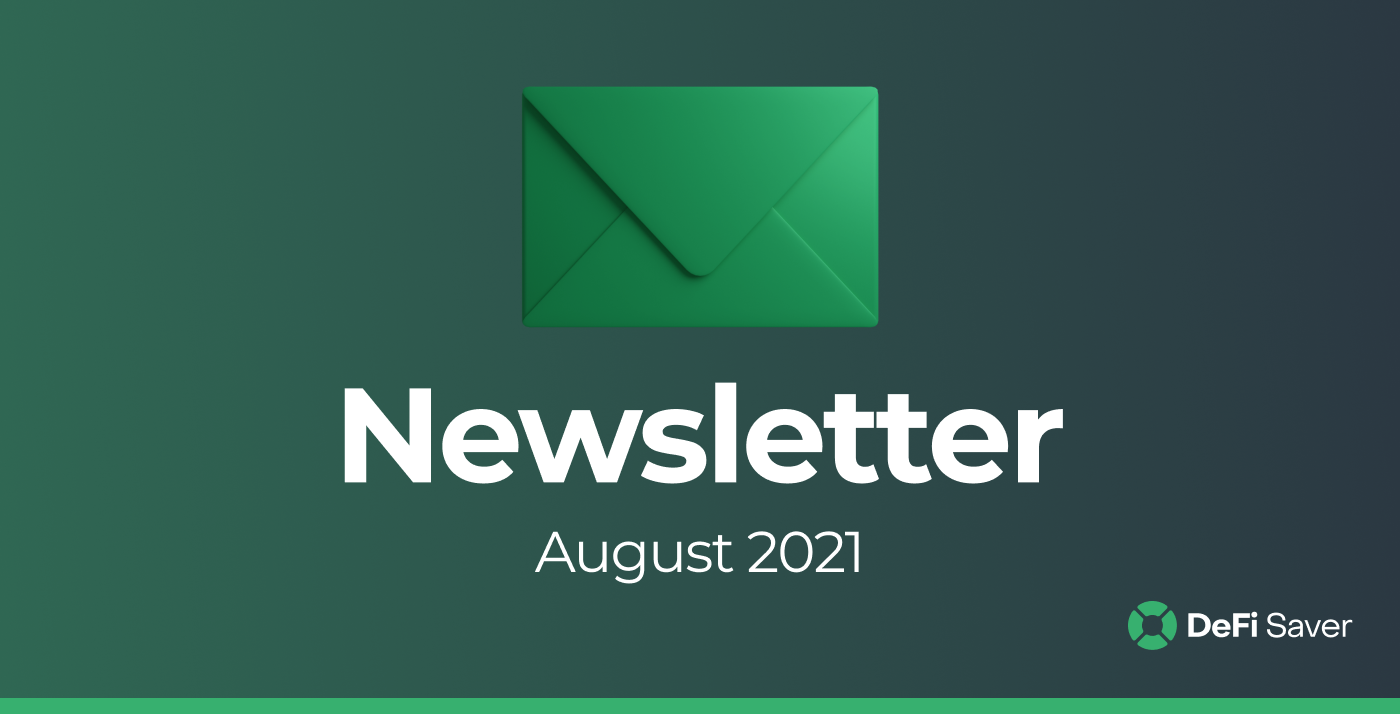 With the sweet memory of DeFi Summer 2020 still lingering in many minds, it was fairly certain that everyone and their dog was wondering the same thing - will we see a repeat this year?

Alas, it seems it was not meant to be. Compared to last year's DeFi Summer that peaked in August, this year we had an absolutely wild NFT Summer instead, well illustrated by the massive NFT trading volume done on OpenSea.
This doesn't mean there wasn't anything else happening but NFTs, though. Quite the contrary, some of the most awaited launches happened in August. Firstly, we had the Ethereum London upgrade that came into effect on August 5th together with the world famous EIP-1559 that effectively introduced an on-chain gas price oracle and ETH burning with each transaction. Then we also had the announcement of $DYDX, a governance token from one of the oldest projects in the ecosystem without one, as well as the full public launch of one of the most promising optimistic rollup projects, Arbitrum.
While August is usually a bit of a slower month, we had a fair share of updates rolled out at DeFi Saver, too, so let's go over all of those briefly.
DeFi Saver news and updates
Creating instantly leveraged Liquity Troves
After our initial feature rollout for Liquity that included a custom dashboard with leverage management options (Boost and Repay) and full Recipe Creator support, we are now gradually expanding on this with more powerful tools.
Our latest release for Liquity includes the option to create an instantly leveraged Trove which is now available at https://app.defisaver.com/liquity/create.
Specifically, this is something you can use whenever you want to long ETH using the Liquity protocol, which can be quite interesting thanks to their very low minimum collateralization ratio of 110% (though we definitely recommend diving deeper into Liquity first).
As a sidenote, in case you're currently thinking about migrating your existing ETH-based position from Maker (or Compound, Aave or Reflexer) to Liquity, definitely check out this cool diagram explaining how the process works:
💡Keep in mind that in DeFi Saver you can move your position between any of the supported protocols and the process is basically the same no matter which two protocols are involved.
MakerDAO Automation updates
The MakerDAO governance recently voted in a change to liquidation ratios for many of their supported collateral types.
In terms of Automation for MakerDAO, this now means that you can set the minimum ratio (aka "repay from") for ETH-A at as low as 155%.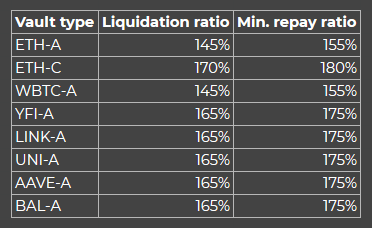 While this isn't as big news as the upcoming automation option updates, it should still be a great improvement, when compared to the minimum 170% ratio that we had up until recently.
Added support for depositing to Yearn vaults
Our latest integration is the world famous Yearn protocol, with support for interacting with Yearn vaults added to our Recipe Creator.
While this may sound fairly basic, it opens up a plethora of new and interesting protocol interactions to all of our users.
For example, you can now create a MakerDAO vault, generate Dai and deposit the Dai into Yearn - all in one transaction. Similarly, if you have funds deposited into Yearn, but those funds originated from a loan that's getting risky - you can also withdraw from Yearn and use those funds to pay back your debt, also in one, single transaction.
DeFi Explore design update
One final major update we handled in August, was the release of the fresh redesign of DeFi Explore, our MakerDAO Vaults explorer. The new look includes soothing, deeper greens, combined with a smooth, curvy outline.
Besides the design update, we're also looking into expanding DeFi Explore functionality, so if you have any suggestions or requests, please jump into the DFS discord and let us know!🙏
August Stats
In terms of activity at DeFi Saver, August was a very active month, which was in line with the great market recovery throughout the month and our usual userbase preference towards going long.
In total, users made $398m of actual trade volume during August, with over 2,800 unique leverage management transactions and custom recipes done at DeFi Saver.
In terms of Automation specifically, at the end of July there were 424 MakerDAO, 46 Compound and 38 Aave automated positions — a total of 508 unique positions with Automation enabled.🤖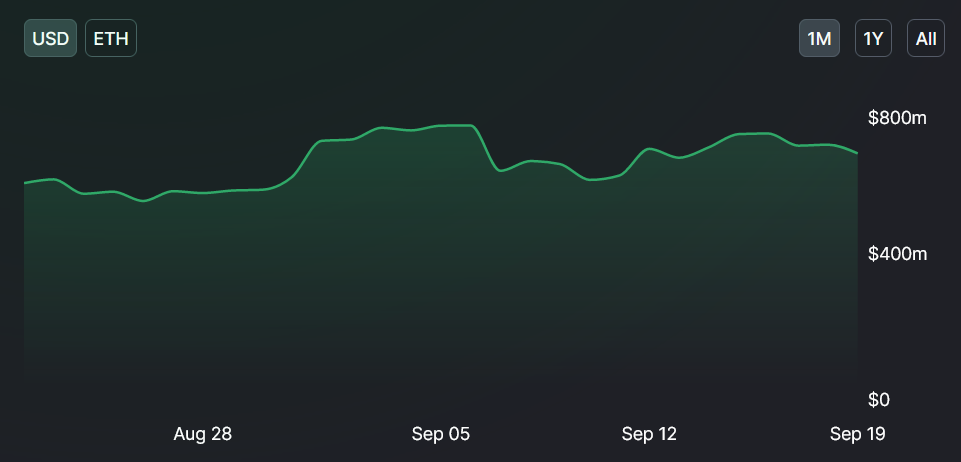 The total amount of managed collateral at the end of August was 168,700 ETH, 570 WBTC, 400 MKR and 84,000 LINK among other collateralized assets. In total, DeFi Saver Automation was managing over $672m of collateralized assets in different user-created positions at the end of August.
Community shoutouts
As always, there was no lack of cool posts about DeFi Saver from the people in the Ethereum community.
Firstly, we have to share this great illustration of how a recipe to move position from one protocol to a different one works, created by Liquity's Derrick:
Then there was this post of praise about the simulation mode you can use in DeFi Saver, shared by Lucas from Maple.finance:
Finally, we'd also like to mention this massive shoutout from Aave's Marc, claiming DeFi Saver is the app to short or long assets on Ethreum mainnet:
With all of that, we bid goodbye to August, and continue work on upcoming features and UI updates. We don't have any ETAs to share right now, but you can expect some VERY nice improvements in the next few months.
Stay safe and talk soon!🙏
Stay connected:
🌍: DeFiSaver.com
💬: Official Discord
📢: Official Twitter
🗣️: DeFi Saver Forum