DeFi Saver Newsletter: October 2021
Welcome to the DeFi Saver Newsletter. In this issue we are covering: DeFi Saver news and updates, Gas extension in-app widget, October stats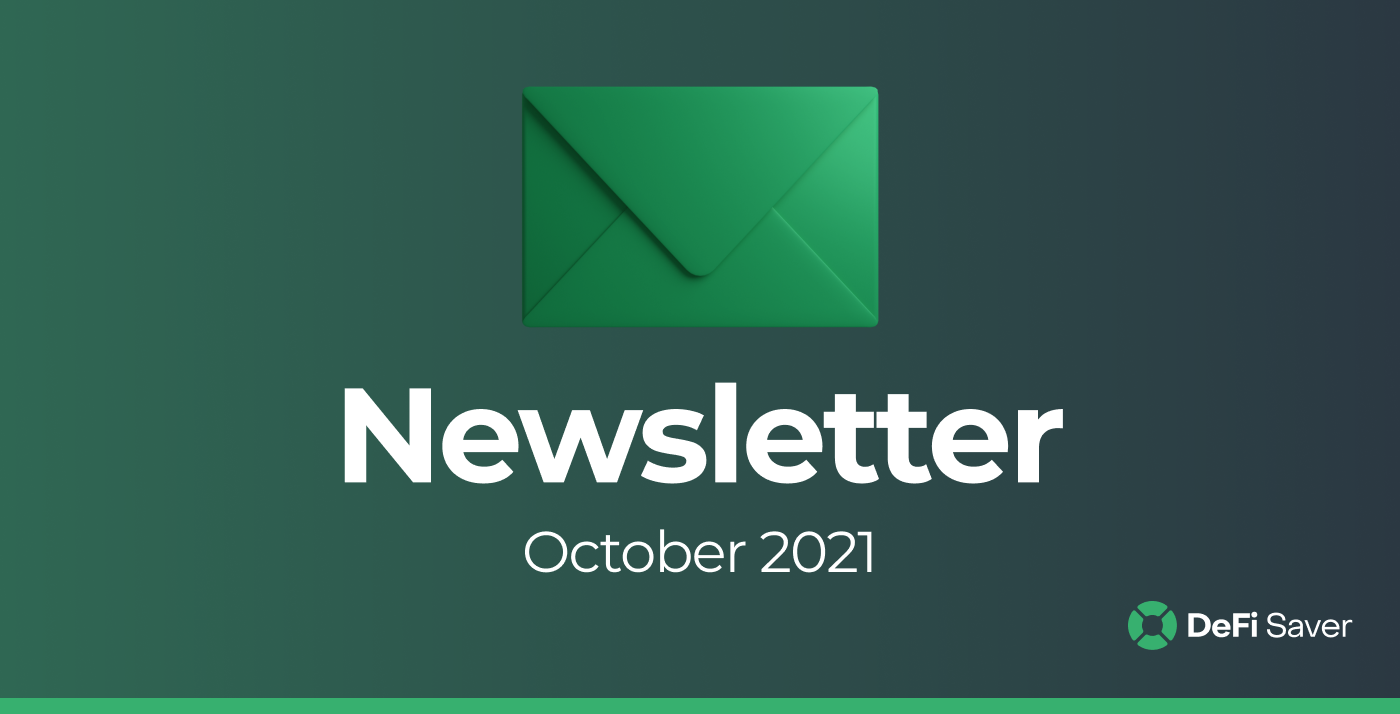 As we entered the Q4 of 2021, expectations of new all-time highs, it turns out, were more than justified. After a quite volatile September, the entire crypto market rebounded to its new all-time high, with DeFi TVL crossing the magical $100B mark, and ETH crossing the May threshold. 🤯
Everything was primed for the record-breaking month with the first Bitcoin ETF going live after almost a decade of waiting for such an approval from the SEC. An important caveat lies in the fact that the ETF was based around futures contracts giving a certain appeal to TradFi folks with retail crypto traders being able to buy actual Bitcoin on just about any exchange. Nonetheless, the importance of this event cannot be overstated with clear signs of institutional interest and adoption. With many more ETFs waiting on approval in several countries around the world, it seems we're in it for an interesting end of the year.
During a two-hour-long House Financial Services Committee meeting with the representatives of the Treasury Department, U.S. Federal Reserve Chairman Jerome Powell clarified his statements from July and explicitly stated that the US does not intend to ban cryptocurrencies, but that stablecoins require regulatory oversight.
One particular piece of crypto-related news hit the world by storm, with many in our great community considering it more to our detriment than benefit. After its fumbled crypto initiative with the Libra coin, Facebook announced that it is creating a parent company named Meta with Mark saying the company will build the Metaverse. Although the term has been overused lately, we agree with the overall sentiment in the community, and strongly believe that the future shouldn't be built by a single, centralized entity with a disputable history of violating user privacy and instead by thousands of incredible teams working on shared decentralized approach.
This month was also the one in which the community went bonkers over a wave of what many are calling DeFi 2.0. The second generation of DeFi protocols that led to the new DeFi 2.0 meme, puts under its umbrella the likes of OlympusDAO, Tokemak, Abracadabra, Alchemix, Ribbon, and a plethora of others looking to shake up the OG liquidity models. Tokemak and Abracadabra raced past $1B like it's nothing. We're watching closely the development of these projects in our ecosystem, especially given some interest from our community and users. Before considering potential integrations with our app we want to see some more market behavior and how this new wave of protocols will behave in more demanding market situations. We're still fans of the proven and battle-tested models.

With numerous announcements impacting this Q4 movement it's important not to overlook some positive long-term trends we're delighted to see in DeFi. According to a report by ConsenSys Codefi, we're witnessing growing DeFi adoption across the board. The number of DeFi wallets has reached new all-time highs with 3.7M unique wallet addresses, monthly revenue generated by popular DeFi protocols has consistently continued to grow, averaging $250M a month with cumulative revenue going over $2.8B, while total value staked in the ETH 2.0 contract has passed the 8 million mark or 6.8% of the circulating supply. Meanwhile, a bit over 700K, or just over $3B was burned in October! 🔥
Some other interesting and notable metrics in the previous month worth mentioning are Uniswap exceeding $500B volume and OpenSea website traffic reaching the top 500 worldwide! Those are quite impressive stats.
DeFi Saver news and updates
We have, of course, our fair share of news and updates we'd like to share. After more than a year of quarantines and lockdowns, we're seeing a resurgence of community-organized events. Finally, we are able to get together, see each other in person, and have some fun. Although the pandemic seems to be far from over, there's hope that things are moving in a positive direction, making travel and events possible again.
DeFi Saver crew goes to Lisbon!
After hearing earlier this year that the next Ethereum community event was to be held in Lisbon, Portugal, we decided as a team that we're not going to miss this one. And boy was that the right call!
For the first time ever Lisbon was picked as the location to host an entire Blockchain Week with 2 big main events, Liscon - ETH conference and ETHLisbon, the hackathon, as well as many side-events organized by teams from around the world coming to this incredible city. The decision to pick Lisbon was in no way coincidental, considering how well they handled the pandemic issues this year, as well as Portugal's obvious intentions to create a new tech and crypto hub in Europe.
We've also decided to sponsor the Liscon conference and a team of 4 Nikolas 🤯 together with our co-founders flew to Lisbon in anticipation of finally seeing many familiar faces, frens, and partners with whom we've shared the last two and a half amazing years of DeFi and community growth.
To kick-off what the Liscon crew rightly dubbed "a celebration of our culture and values, a coming together of builders, thinkers and creators across the space", we've organized an unofficial warmup party together with Tenderly and Tesseract teams on October 19th. In it for the tech(n0) was an awesome party with Belgrade's hottest teams, in one of Lisbon's most amazing clubs, and one of the best in the world  - Lux Fragil.
Tenderly is a comprehensive Ethereum Developer Platform for real-time monitoring, alerting, debugging, and simulating Smart Contracts. Trusted by industry leaders and upcoming players alike, it become one of the beloved development products in the blockchain ecosystem relied on by numerous teams around the world.
Tesseract is a newly launched DeFi product developed by a team of investors and developers from the ecosystem in collaboration with Yearn Finance. Tesseract aims to bring Yearn's strategies and yield generating products to Polygon.
It was a party alright. The venue and sound system were amazing and we've received quite a few compliments for putting everything together. It was truly our pleasure to host an event for a number of friends from Maker and Aave that honored us by coming in droves, as well as folks from various teams including ConsenSys, Synthetix, Gitcoin, Gelato, and many more community members as we could fit. Special shoutout to the amazing Mr. Burban, btw! 😎
The entire event was organized according to Portugal authorities and venue representatives' guidelines and everything went as smoothly as possible.
The next day was the start of the Liscon conference! The organizers did an excellent job by choosing the LxFactory - Lisbon's artistic and beautiful industrial neighborhood for the location. Shoutout to our friend, super positive dude and overall a terrific guy, David Mihal, and especially Shannon Ewing, who helped us with sponsoring and being part of Liscon. David is a familiar face from the community and ecosystem, but for those of you that don't know him, he's the guy behind some of the projects we all love like cryptofees.info and ethburned.info to name a few.
LxFactory is a bustling complex and home to amazing restaurants, bars, and cafes, which during those beautiful, sunny days were filled with lovely people that came from all over the world to be a part of this incredible coming together. We missed seeing some of the familiar faces.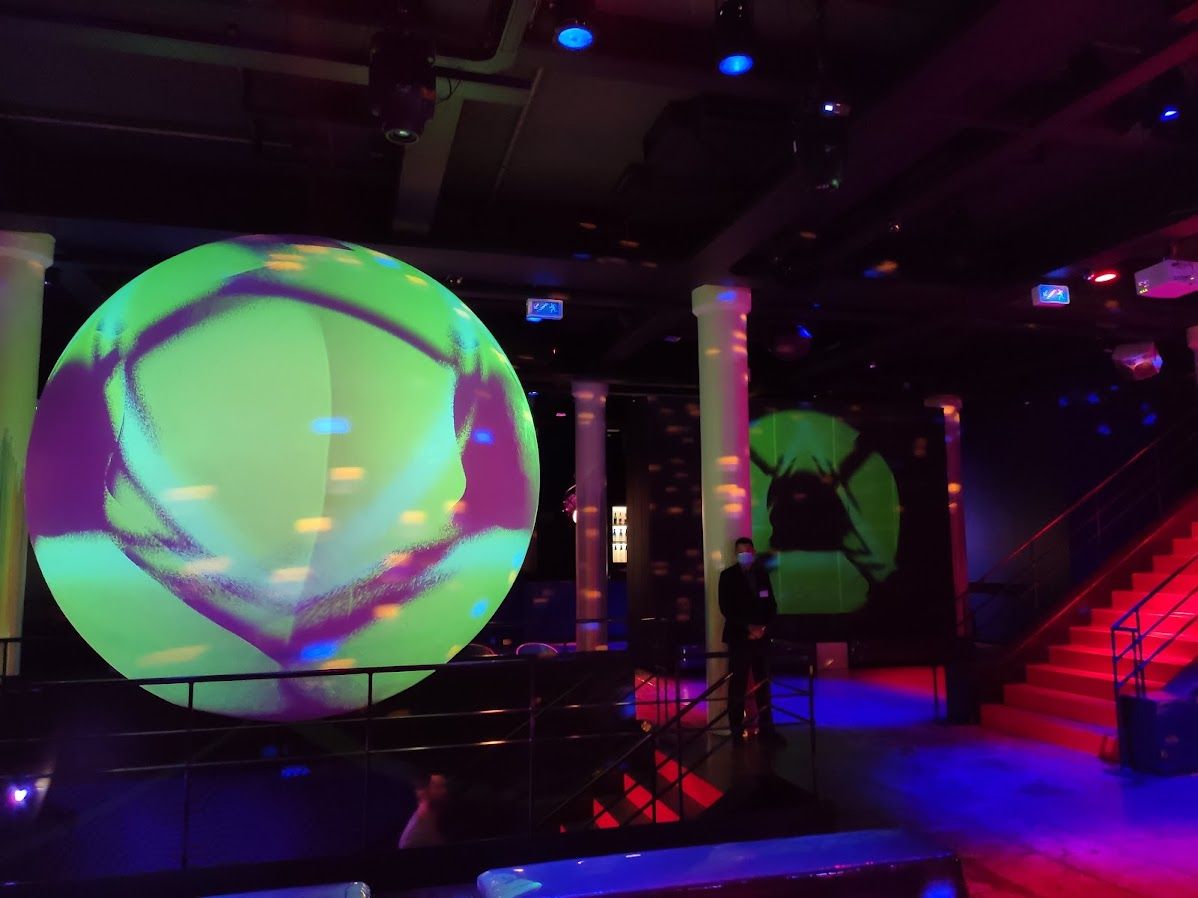 It was amazing to hear from dozens of folks and satisfied users who have used DeFi Saver over the years or are actively still using our app to save them from liquidation. We've received quite a bit of praise for "saving their life so many times" in those crucial moments like back in March of 2020 or May of this year.
We did our best to go to several of the side-events, but we definitely want to give special kudos to MakerDAO Mixer hosted by our friends in the classy Silk club with a lovely view over the city, and MetaCartel by night organized by their crew and Peter, dude we all admire for his brilliance.
If you're interested in more details, our frens from The Defiant did a great job in writing a Lisbon Blockchain week Recap, trying to cover all aspects.
Updated gas extension and in-app widget
We've updated our gas extension and in-app widget to support the new EIP-1559 style gas prices and provide more useful information for the new gas price settings.
The widget now includes data on the current base fee, suggested priority tips (though it's almost always safe to go with 1 or 1.5 gwei tips), as well as the max base fee that can be reached in a certain amount of blocks. Similar to before, there is now a base fee history chart (instead of the gas price chart) at the bottom.
You can still rely on the legacy gas estimation with a simple switch in the top right corner of the widget, if needed.
New MakerDAO WSTETH-A Vaults support and Maker Dai Flash Minting integration
As soon as Maker Governance passed an Executive Vote for onboarding wstETH as collateral in the Maker protocol, we jumped straight to work.
Effectively, the new vault type allows anyone to use Lido's yield-bearing tokens as collateral in MakerDAO. We shared a mega-thread worth checking out about all the things you can do with WSTETH using DeFi Saver, but let's go through it once again. The things you can do at DeFi Saver include:
Create Vaults (borrow against wstETH)
Create an instantly leveraged position/Vault (e.g. long ETH, but using wstETH instead)
Convert any ETH-x Vault into WSTETH-A
Automate WSTETH-A Vaults (so you can setup liquidation protection or automated leveraging)
Our original thread, for your convenience:
Together with this update we also added support for MakerDAO DAI Flash Minting⚡, which you can now also find in our Recipe Creator, under the flash loans category. You can use it to flash mint up to 500m DAI and there is no fee.
Reflexer liquidation ratio update
Reflexer protocol has updated its liquidation ratio, decreasing it from 140% to 135%, which together with its -0.5% stability fee, made Reflexer RAI Safes quite an attractive option for borrowing or for leveraging ETH, especially when one takes into account various incentives in the form of FLX tokens.
With our growing protocols support, you could actually consider doing a number of the FLX incentivised options at DeFi Saver, including borrowing RAI from Aave v2 or LPing RAI/DAI into Uniswap v3.
October Stats
With new all-time highs, activity in DeFi Saver followed suit. October was a very active month, with a clear uptick in the unique number of users visiting our platform, in line with the overall market sentiment. Though, the total number of visits and volume remain behind the current record from May.
In total, users made $336m of actual trade volume during October, with over 2,300 unique leverage management transactions and custom recipes done at DeFi Saver.
In terms of Automation specifically, at the end of October, there were 436 MakerDAO, 47 Compound, and 40 Aave automated positions — a slight increase totaling to 523 unique positions with Automation enabled.🤖
The total amount of managed collateral at the end of October was 203,800 ETH, 1020 WBTC, 460 MKR, and 202,000 LINK among other collateralized assets. In total, DeFi Saver Automation was managing over $1B of collateralized assets in different user-created positions at the end of the month.
Community Shoutouts
You know the drill. We love to share some of the shoutouts received in the previous month.
First and foremost, here's Tetra with another shoutout for our gas extension. We love to see it! It seems other folks find it useful as well, especially after adding support for EIP-1559, and with the unfortunate termination of Gas Now.
Staying on the topic, here's CT with a similar comment:
It seems like ruffiian find out about our Simulation tool and found it useful 👀:
Emiliano showing some party gratitude 🥳
and here's Nick hype-ing the folks in anticipation of wstETH vault support:
Our own Ethereum shoutout got some wide attention:
Finally, we want to end this long post with some thank you notes:
Stay connected:
🌍: DeFiSaver.com
💬: Official Discord
📢: Official Twitter
🗣️: DeFi Saver Forum