DeFi Saver Newsletter: March 2022
After a cold and a tad bit slow February in terms of our product updates, last month we delivered everything that we've been working hard on in the previous period.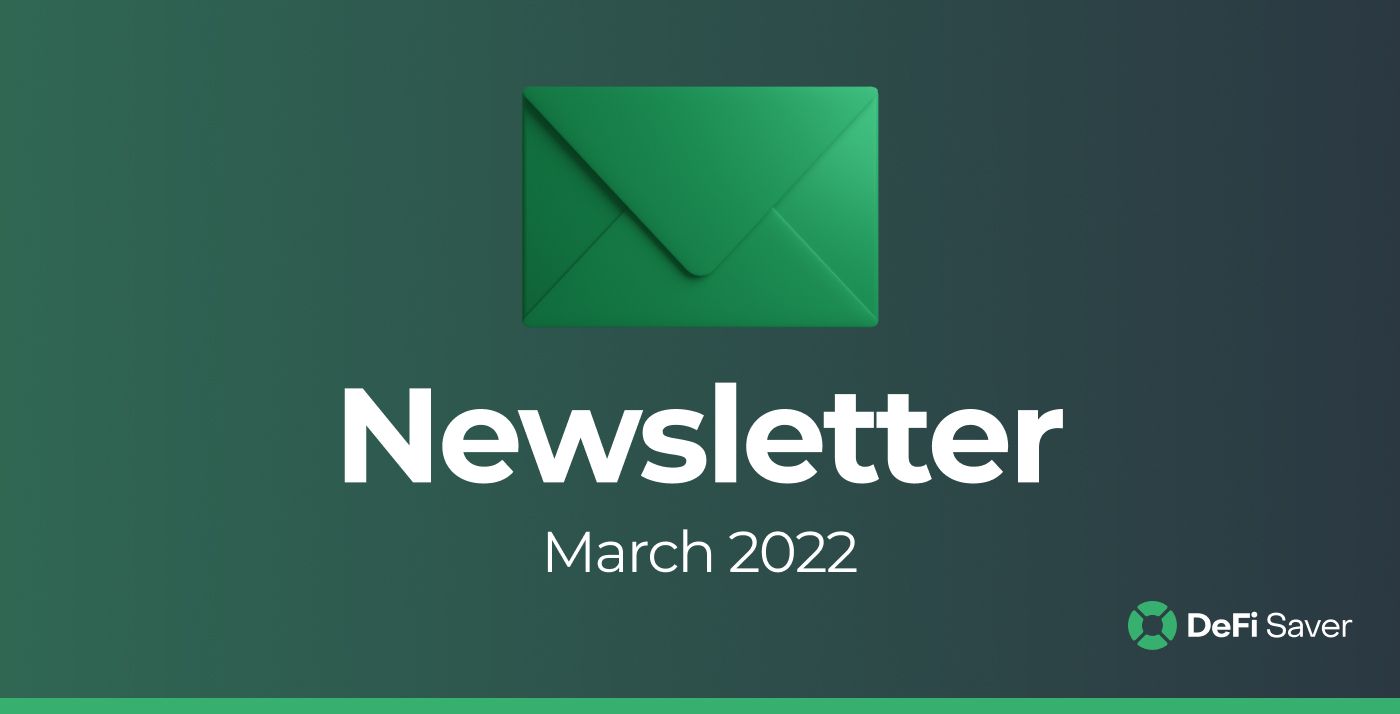 After a cold and a tad bit slow February in terms of our product updates, last month we delivered everything that we've been working hard on in the previous period. Here's another super active March and some significant improvements we rolled out.
You might be surprised if you see this in your email Inbox again. After somewhat of a hiatus, starting with this newsletter edition, we will continue sending our monthly newsletter and most important news and updates to our subscribers. More regularly as well.
We are kicking things off with the market sentiment. Across the board, we saw a strong uptrend last month, with Bitcoin and Ether leading the way as always. March has been a strong month for the entire crypto market, especially for DeFi, with TVL on Ethereum reaching $83B. Effectively, the DeFi market started its slow recovery to the levels before the big January crash.
Metrics, such as growth in DeFi wallets, total value locked, and cumulative revenue, continue to demonstrate adoption and usage over the longer term. - ConsenSys Research Team
Although there were both positive and negative market signals from another wave of firm sanctions imposed on Russia, a global shortage of grain, shortage of oil and gas, and FED hike uncertainty, one thing that particularly stood out was the executive order on digital assets signed by the U.S. President Joe Biden. With the order clearly stating that the U.S. wants to maintain the technological leadership in the sector, there was significant relief. Additionally, the interest rate hike by the FED was only 0.25%, instead of the expected 0.50% leading to a further positive trend.
Other March news worth mentioning:
Terraform Labs founder Do Kwon announced the purchase of $10B worth of Bitcoin to support their algorithmic stablecoin TerraUSD
Goldman Sachs conducted the first-ever over-the-counter transaction with cryptocurrency. It was a Bitcoin transaction backed by Galaxy Digital
The EU parliament voted against the Proof of Work ban proposal contained within the new regulatory Markets in Crypto Assets (MiCA) framework governing digital assets
The Swiss town of Lugano outlined a plan to adopt cryptocurrency as legal tender for taxes, goods, and services, with support from Tether
Bored Ape Yacht Club (BAYC) has launched its native APE token for the Apes NFT ecosystem with subsequent investment rounds from VCs
Andre Cronje announced his departure from DeFi again, perhaps this time for good. The legendary dev left some big project names like Yearn, Keeper Network, and Fantom blockchain, to name a few.
March 2022 also had its one big hack. $625M of cryptocurrency was stolen from Ronin, blockchain powering Axie Infinity. The attack was focused on the bridge between Ronin and Axie Infinity.
Friends from The Defiant have released a comprehensive report with DappRadar exploring the impact of the current Russian invasion and the West's response on the crypto industry.
DeFi Saver news and updates
March was indeed fun. We released a bunch of significant updates we've been working on in the previous period. After many announcements, we finally released the highly anticipated Automated Strategies! The extensive Automation overhaul dramatically expands the possibilities of our flagship feature, and we're genuinely proud of this team effort.
Automated Strategies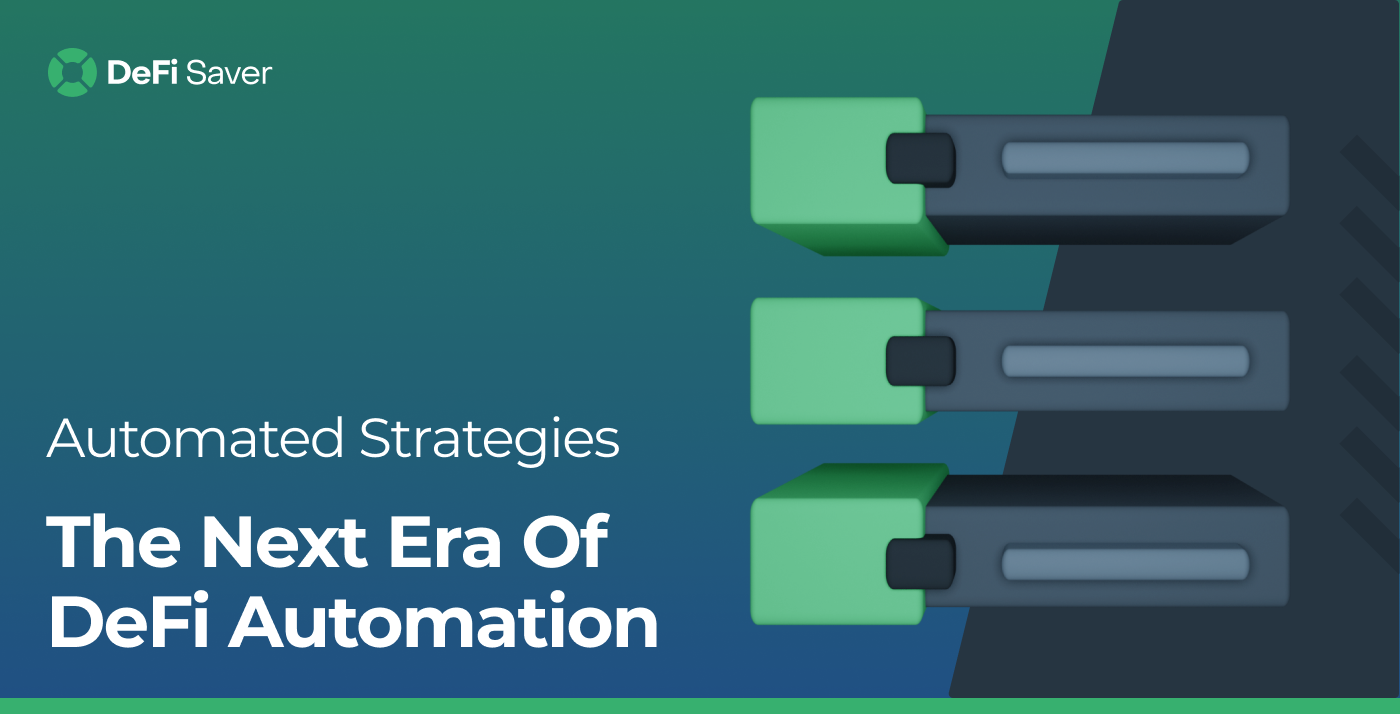 Last month, we released one of our most important updates yet. It is a significant overhaul of our famous Automation feature. Some time ago, we identified a need to create a more general approach to automating liquidation protection and leverage management. Primarily to enable some conventional market strategies like Stop Loss and Take Profit, and secondly to provide a truly customizable system based on various triggers, in the true spirit of DeFi. We are thrilled and truly proud to see Automated Strategies finally going live.
The new system introduces a modular approach to DeFi automation that is based on the architecture of our Recipe Creator feature. UX master Sterlu wrote a great Technical Overview, going through some intricacies and essential technical information you may want to check out.

An automated strategy consists of a set of triggers and a Recipe that gets executed when the trigger conditions are met. This is how our solution for a more generalized automation system looks when broken down into essential elements.
The first new strategy we released was Savings Liquidation Protection Strategy as a showcase. It connects MakerDAO with yield farming protocols such as mStable, Yearn, Rari (and any others we may integrate into Smart Savings later on).

Compared to our historically famous liquidation protection through automated repays, the difference is that there is no selling of the collateral in this case. Dai deposited into any of the mentioned protocols are withdrawn and used to pay back part of the debt and prevent liquidation - automatically, without any additional input from your end, as soon as the configured threshold is reached.
The new release also brought a new Automation UI required to showcase different Automated Strategies at user disposal. You can always check our release post for more details.
With this release being the first phase of this major overhaul, the idea behind it remains our primary guiding principle. Enabling the creation of various unique and customizable, user-built strategies that are easily automated by combining protocol actions and triggers executing when conditions are met presents the second phase we'll push during this year.
Stop Loss & Take Profit Strategies for MakerDAO Vaults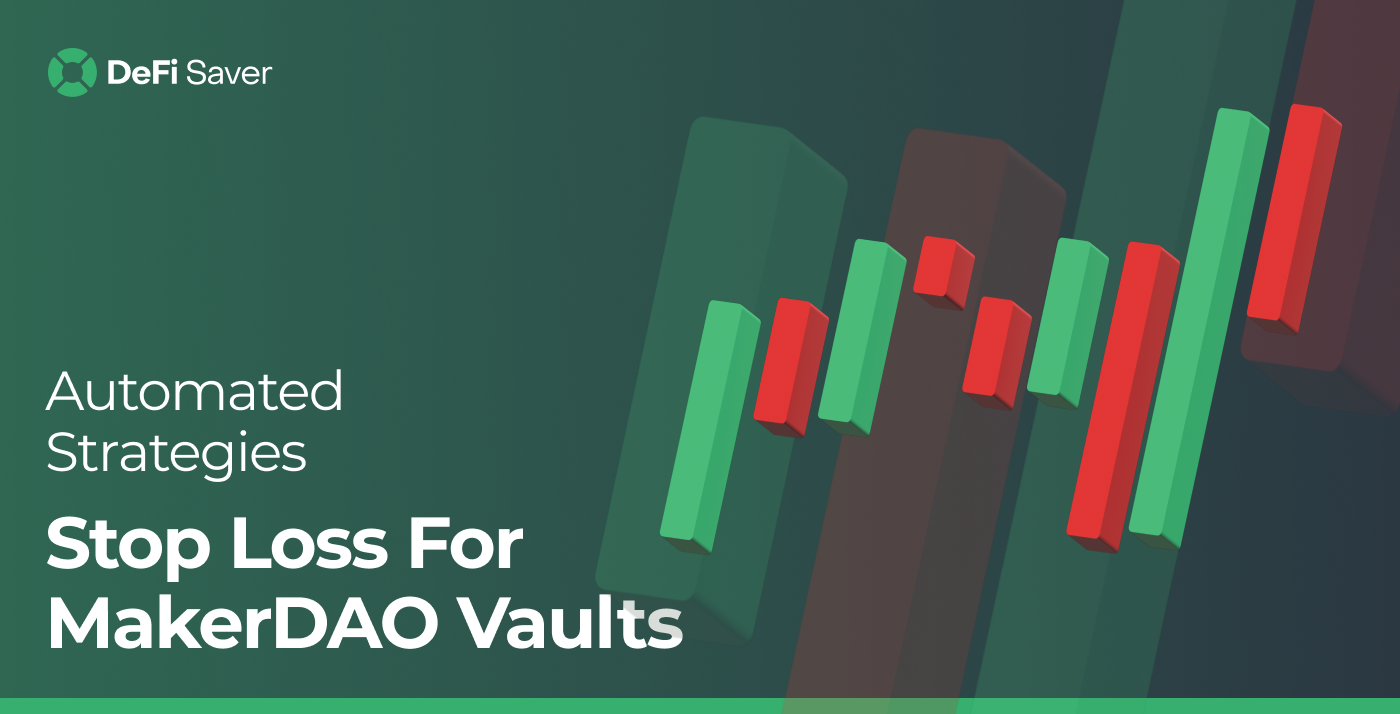 By the end of the month, the team squeezed in another BIG update. After the first strategy was introduced, together with the new automated strategies system, we released the long-awaited Stop Loss strategy and the Take Profit strategy!
The new automated strategy introduces an option for MakerDAO users to set a price threshold which, once hit, would trigger a set of actions that would result in the user's position being fully closed (employing collateralized assets to clear the debt).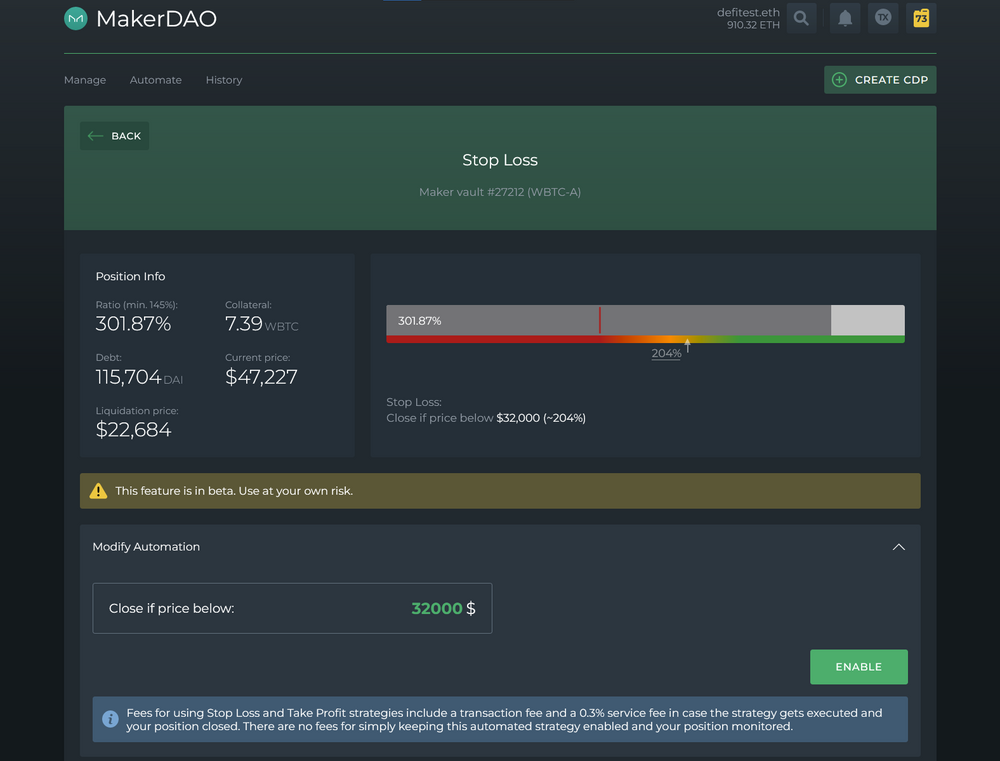 Now, there is a slight difference in the case of this strategy. As mentioned above and in our dedicated blog posts, strategies rely on a combination of triggers and a set of actions executed once the trigger condition is met. In the case of these strategies, we concluded that the reliance on Chainlink oracles is necessary for precise execution instead of using Maker ones.
There are also some nuances. Users can enable Stop Loss and Take Profit for the same Maker CDP. However, they cannot be combined with other automated strategies, i.e., the old automation. In the future, we'll enable cross-play there as well.

Although only for MakerDAO for the moment, this marks a big step for us, as the requests for such options for the OG protocol came in a long time ago. However, we'll be expanding the strategies system to all other integrated protocols over time.
Check out our update blog post for more information.
Maker $steCRV Vaults support
Mid-month, we've introduced support for steCRV Vaults in MakerDAO. These Vaults offer $LDO token rewards from Lido for using stETH/ETH Curve LP tokens as collateral in Maker. Users can create both standard and leveraged Vaults and rely on Boost and Repay leverage management features.
This Vault type (ilk) uses crop-join, a new adapter that enables collecting liquidity rewards given to holders of a specific asset or collateral. LDO rewards are collected each time a user interacts with MakerDAO.
Benefits of using steCRV in MakerDAO include receiving:
Staking rewards from Lido
Trading fees from Curve
Additional LDO incentive rewards (expected to last until withdrawals are implemented)
It's important to note that staking rewards will continue to decrease as the amount of ETH being staked grows over time.
To create your first steCRV Maker Vault, navigate to the Maker dashboard.
DeFi Saver Immunefi bug bounty increase
We're glad to announce that we've increased our bug bounty to $250,000. As before, we rely on the Immunefi bug bounty platform. You can find more information, details on rewards by threat levels, the scope of the bounty, and a list of things out of scope on the page covering our bounty - https://immunefi.com/bounty/defisaver/.
All bugs or reports should be submitted through Immunefi, but all our channels remain open for any questions or additional information.
We believe regular audits and attractive bug bounties in line with the ecosystem are some of the most critical safety elements, and we will continue to uphold the highest safety standards.
Sterlu with DeFi Slate
Our Front team lead, UX guy, and one of the tallest Nikolas out there had a friendly little chat with folks from DeFi Slate on their Twitter Space.
The focus of the talk was the recent Automated Strategies release, our Layer 2 plans, and the features we're thinking about for the next period.
Jay mStable talk
nikola_j had a fun AMA session with the guys from mStable. After introducing mStable to our Smart Saving dashboard, there was a nice surge of DeFi Saver users looking to utilize the APY mStable had to offer.
In this session with the mStable crew, nikola_j gave an overview of our app with some highlights, even going a bit technical and offering in-depth info regarding our plans.
The last mighty addition to our Marketing team, Nikola (well, of course), really started making a name for himself among the hardcore CT crowd with his detailed, specific, and accessible Twitter threads covering all things DeFi. For the time being, his focus is on DeFi essentials, but he also covered some new and innovative things like Aave V3, for example, which drew A LOT of attention. Kudos to our research dude, and follow him on Twitter for more educational and informative threads.
March Stats
In terms of our stats, March didn't introduce a radically different situation than February, even with the signs of the market recovery.
Users made $137M of actual trade volume during March, with some 1700 unique leverage management transactions and custom recipes done at DeFi Saver.
In terms of Automation, there were 332 MakerDAO, 40 Compound, and 55 Aave automated positions at the end of March— a slightly stagnant situation at the moment.🤖
At the end of March, the total amount of managed collateral was 138,000 ETH, 905 WBTC, 214,000 UNI, and 1815 MKR, among other collateralized assets. DeFi Saver Automation managed around $230M of collateralized assets in different user-created positions at the end of the month.
Community Shoutouts
We've received lots of friendly shoutouts and feedback this month, given the number of updates released. It was hard to pick out favorite ones, but here are a few.
DeFi Dad is kicking March off with a cool mention of helpful Sim mode:
Chris was always friendly with us. Here he points out the essential case for taking out a loan in DeFi:
Lito from the CryptoTesters community likes to manage his leverage using DFS (emoji)
Chainlinkgod liked seeing DFS relying on Chainlink price feeds for Stop Loss:
Ernesto from Aave is showing some love by seeing the definikola thread:
Marc from Aave as well:
Stay connected:
🌍: DeFiSaver.com
💬: Official Discord
📢: Official Twitter
🗣️: DeFi Saver Forum