News
Open a Trove and Bond in 1-tx and win $LUSD!🎁
Win LUSD with Liquity Chicken bonds! Create a Trove and new LUSD Bond in one transaction with DeFi Saver quick recipe and win LUSD!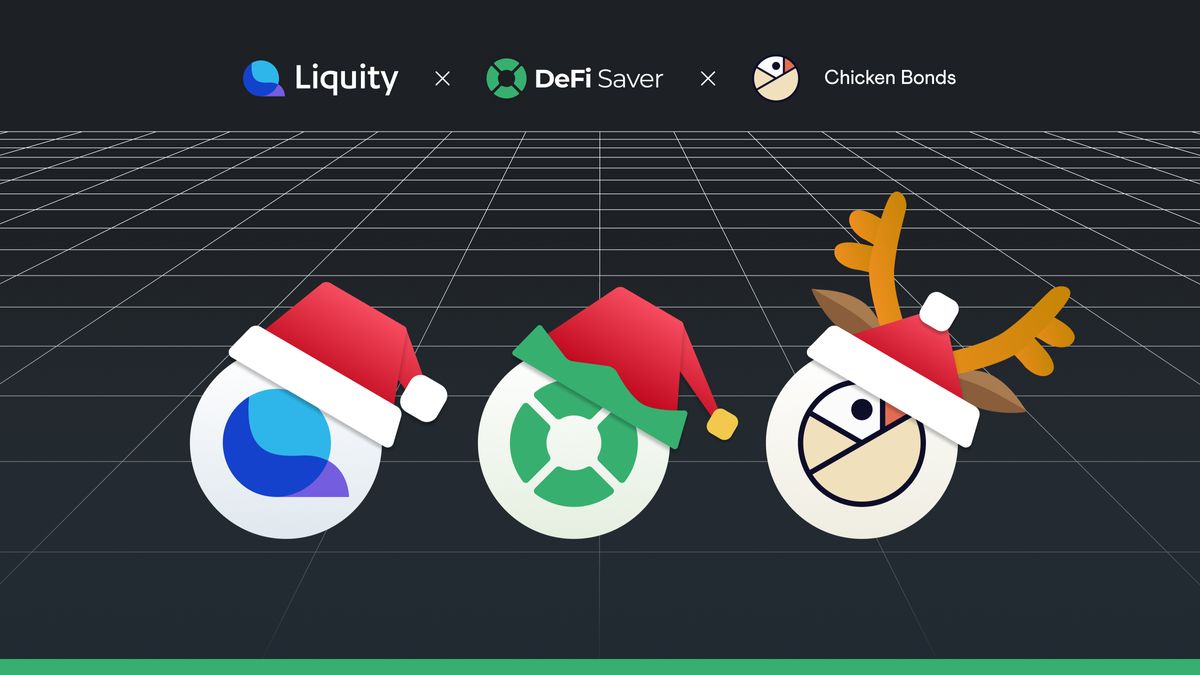 TL;DR: From today through January 9th all accounts* that use our special recipe for opening a Trove and Bond in one transaction will be eligible for winning one of five 200 $LUSD rewards - details below!
For a year and a half now we have been working hard towards establishing DeFi Saver as one of the more prominent frontends in the Liquity ecosystem. With our initial release, we provided our signature features for 1-tx leverage management to Trove owners, as well as loan shifting options for people looking to move from other protocols to Liquity. More recently we have further expanded this with automation options for Trove owners, including stop loss, take profit and trailing stop features for users looking to protect their positions from liquidation and losses.
This year when the Liquity team announced Chicken Bonds, we were again very quick to create a custom DeFi Saver Bonds dashboard, with additional advanced options such as Claim+Sell and Rebond. Moreover, we also introduced an automated rebonding feature for all long term Chicken Bond users who were looking for a set it and forget it type of strategy where their LUSD capital can keep growing without the need for their monitoring or input.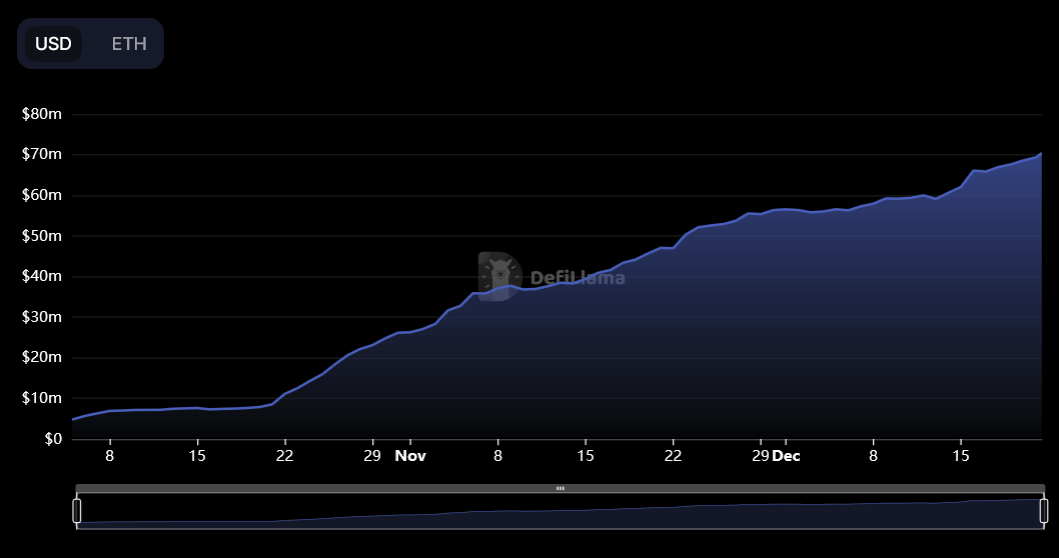 Finally, just last week, we introduced what we feel is potentially our most powerful feature so far, allowing users to create a Liquity Trove to borrow LUSD, create a LUSD Bond and then enable liquidation protection for the Trove using funds in the Bond, all while (optionally) having automated rebonding enabled, too. This is the first time we have such a complete combo of different protocols and automation options working in unity and we definitely recommend checking out our introduction post to better understand how it all comes together.
Today, we are making access to this strategy even easier (and adding a cherry on top thanks to some incentives from the Liquity team!).🧙
The 1-tx Trove & Bond recipe
You can now use a quick access recipe to both create a Trove and create a new LUSD Bond in one transaction. The only needed inputs are:
the amount of ETH you want to deposit,
the amount of LUSD you want to borrow,
and the number of bonds you want to create with the borrowed LUSD.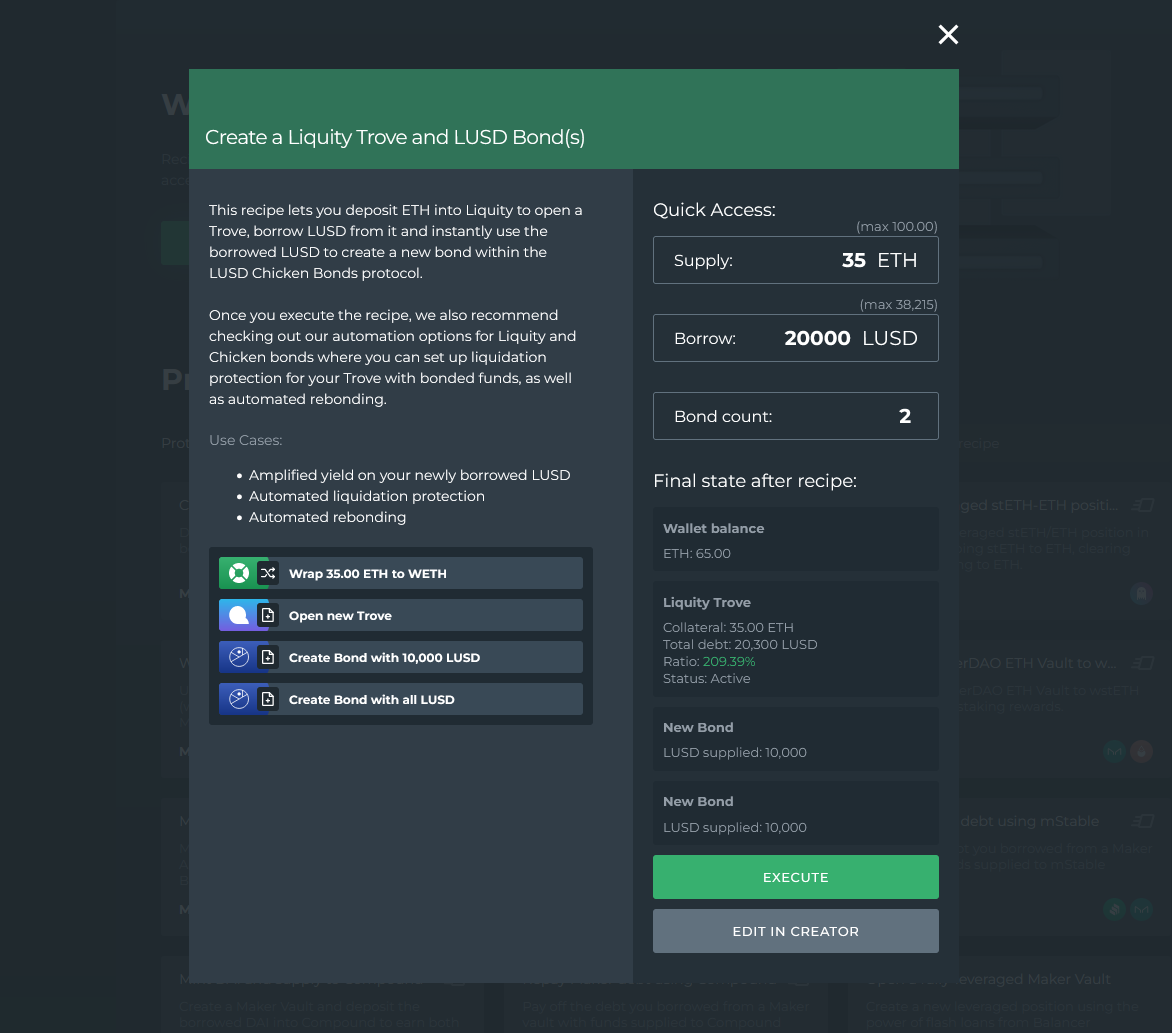 You can find this new quick access recipe right here: https://app.defisaver.com/recipes/book?recipe=create-a-liquity-trove-and-lusd-bonds
More specifically, the recipe will deposit your ETH into a new Liquity Trove, borrow the entered amount of LUSD and then create a new LUSD Bond with the borrowed assets (or multiple bonds if you enter so).
If you want to further customise the number or the size(s) of the bonds being created you can always go with the Edit in Creator option and manually adjust all the involved steps within our Recipe Creator UI.
As always, don't forget to make use of our simulation mode to test any of this out first, before making any actual, on-chain transactions. The simulation mode can always help check the steps of any process, verify outcomes and estimate any related transaction fees.
LUSD incentives for recipe users
In order to help us spread the word on all of these cool new features for Liquity and Chicken Bonds users, the Liquity team decided to jump in with some LUSD rewards for 5 lucky winners who use the recipe above!
Promotion details
1,000 LUSD in total will be rewarded, split equally and distributed to five winning accounts (5 x 200 LUSD)
Eligible accounts will be those that use the recipe from this post to create a Liquity Trove and LUSD Bond in one transaction
Promotional period is December 21st 14:30 UTC - January 9th 14:30 UTC.
Created Trove(s) will need to be open for at least 45 days to be eligible
The rewards will be distributed between 5 random eligible account addresses in February
ℹ️If you'd like to double check whether your planned action(s) would be eligible, please feel free to reach out in our discord.